Legi-Air 4050 Pallet Label Applicator
The Legi-Air 4050P for continuous pallet labelling.
The system offers numerous advantages with respect to speed, reliability, scope of application, size and serviceability.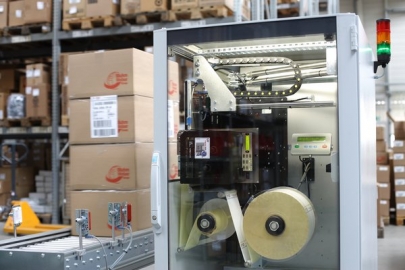 Bluhm Systems presents a new modularly constructed pallet labeller, the Legi-Air 4050 P, for continuous pallet labelling.
The new Legi-Air 4050 P enables labelling of two adjacent sides of a pallet. Depending on application, throughput of up to 7 pallets presents no problem. Directly before dispensing, variable data such as weights or barcodes are printed on the labels, cleanly and legibly. An optionally integrated scanning system allows you to check the legibility of the labels while they are printed.
Adobe Reader is required to open and view PDF files. This can be downloaded free from adobe.com.
Available Documents
LegiAir4050P_uk
When choosing the right label for your detergent or liquid soap product, it's important to get a label material that will stand up to exposure to the product. The label is going to get wet and abused. Weber can help you decide on the right materials that will look great and yet be durable enough to take harsh treatment of repeated soakings and squeezing.

View Product

---

Summary

Tray Trace is the effective answer to the management of re-useable containers. With the use of unique identifiers for each tray, container, roll cage, IBC, transit tank, barrel, gas bottle, potato box or pallet means these can be scanned on delivery, collection and at base to provide an accurate record of the container's use and current location. Re-usable containers are environmentally friendly if re-used; where are they going to, and who is losing and not re-using costs a business both monetarily but also in loss of resources. Further Tray Trace lets you record the condition of the container, its temperature and free text as an option.

View Product

---

ZT400 printers feature USB, Serial, Ethernet and Bluetooth® connectivity along with expanded RFID capabilities. Plus, with Zebra's Link-OS® environment, an innovative operating system, your customer can easily integrate, manage and maintain these printers from anywhere in the world.

View Product

---

Zebra LS3578

RUGGED, CORDLESS SCANNER WITH INTEGRATED BLUETOOTH

In the yard, warehouse, distribution center, manufacturing plant or retail store, the LS3578-ER offers superior performance and reliability as well as a user-friendly form factor that helps ensure comfortable use. Plus, integrated Bluetooth provides reliable and secure wireless data transmission between the scanner and host.

View Product

---