Model 5300 Series Pail/Drum Label Printer-Applicator
The fully-automatic system that quickly and accurately prints and applies labels to pails or drums on the production line.
• Fully automatic pail/drum labelling system
• Ideal for rough production conditions
• High-grade label printing in a single operation
• Prints and applies labels up to 7″ x 14″
• Labels up to 30 products per minute
• Print resolution up to 600 dpi
• All conventional data interfaces
• Service interval display
• Display controller for simple operation
• Easy integration
• CE certification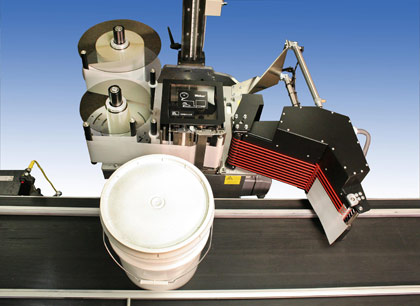 Model 5300 Pail/Drum Label Printer-Applicator
Weber has designed and engineered a unique label printing and application solution that features flexibility, quality and efficiency.


Weber's Model 5300 Pail/Drum Labelling System quickly and consistently prints and applies perfectly positioned labels to the outer circumference of the product. It optimizes the product identification process to provide a positive impression on consumers, thanks to accurate label placement that ensures strong brand impact. The labels are applied straight and consistent every time.
The system prints top-quality labels up to 7″ x 14″ with very high-resolution text, bar codes and/or graphic images. The durable construction of this unique labelling solution makes it suitable for use in all sorts of production environments.
Pails or drums can be properly labelled even amid changing product identification requirements, and variable products and information can be accommodated without wasting labels. The Model 5300 Pail/Drum Labelling System is versatile enough to communicate via existing data controllers or interfaces.
Adobe Reader is required to open and view PDF files. This can be downloaded free from adobe.com.
Available Documents
5300
The Axicon 7015 combines CCD based hardware and state of the art application software, conforming to the latest ISO/ANSI print quality standards (ANSI x3.182 and ISO/IEC15416-1). Our equipment has been independently tested and conforms to ISO/IEC15426-1. The Axicon 7015 is designed for all barcodes where an 8, 10 or 20mil aperture is mandatory (such as GS1-128 and ITF-14), up to 195mm width including quiet zones. The simple to use design reduces user error and eliminates product damage whilst providing the highest level of accuracy achievable for verification.

View Product

---

The microFlash 2te is the industry's most rugged and reliable 2-inch wireless portable printer, in addition to being the smallest. In fact, the 2te is up to 33% smaller its nearest competitor! The 2te printer will dramatically increase the efficiency and productivity of your workforce, and ensure that "printer failure" is a term that is rendered nearly obsolete. A grueling series of tests prove the 2te's ability to withstand the most punishing physical abuse. As for performance, the printer's processor is so fast that it rivals the output time of portable printers that claim to have twice the print speed.  The 2te is also easy to integrate into new or already established applications. It utilizes USB, and is compatible with today's handheld terminals and laptops. The 2te can be managed through many software packages.

View Product

---

The Weber AP182 is the latest offering by Weber Packaging Solutions of the Pallet Labelling Systems range. It has the reliability and modularity of its predecessor the AL180 but with on board Intelligence and an enhanced User Interface. In the design of this system Weber has focused on reliability, connectivity, efficiency, and versatility. The AP182 System is designed to Label up to three sides of a Pallet simultaneously for specialist pallet identification applications.

View Product

---

Fast 4-inch thermal printers that are easy to use, easy to deploy and easy to manage, then choose the ZD420. Daily operation couldn't be simpler, thanks to a new ribbon cartridge with more status icons

View Product

---