Weber Thermal-Transfer Ribbons
Weber's long experience with thermal-transfer print technologies and compatible label materials has given us a broad understanding of exactly which ribbon is best suited for any application. Resin ribbons are suitable for very special applications. Each ribbon is formulated to print high-density bar codes, text and graphics for product identification, work-in-process, inventory control, shipping and other applications.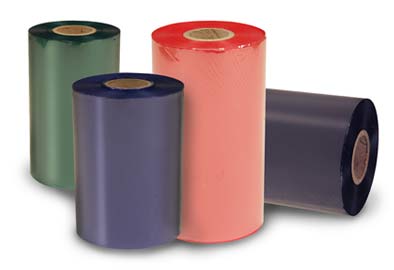 We can help you find the right ribbon for your labelling requirements.
There are three different types of ribbons:
Wax Ribbon
Wax ribbons: Very smooth and sensitive especially for low printing-temperatures
These are especially smooth and sensitive.
With this ribbons you can print with a high-contrast with low temperature. These ribbons are capable for normal and silk mat papers.
Example Wax Ribbon Products
DNP TR3021, 22, 23 Wax Thermal Transfer Ribbon
Armor AWR470 Thermal Transfer Ribbon
---
Wax-resin ribbon
Universal ribbons: Very wipe and scratch resistant.
Because of the resin in the colour, the print of theses ribbons is more wipe and scratch resistant as a print with a normal wax ribbon.
These ribbons are suitable for all glossy papers and synthetic surfaces like plastic. The printing of small writings with barcodes which are rotated 90° is another advantage.
Example Wax-Resin Ribbon Products
DNP M265 Wax/Resin Thermal Transfer Ribbon
DNP TR4085plus Premium Resin-Enhanced Wax
---
Resin ribbon
Resin ribbons for special applications with a high consistency.
The resin ribbons are capable for printings on type plates, solvent-resistant  synthetic labels, heat-resistant labels, washable labels and other special applications.
Example Resin Ribbon Products
Adobe Reader is required to open and view PDF files. This can be downloaded free from adobe.com.
Available Documents
The Compact4 Mark II  mobile printer is designed for installation on conveyors, forklift trucks and mobile stations. It can operate from a connection to a forklift's battery and its vibration-proof design makes it the perfect choice for warehousing logistics.

Specifications at-a-glance:

Direct thermal
203 dpi [8 dots/mm], 300 dpi [12 dots/mm] optional resolution
5 ips [125 mm/s] maximum print speed
4.1″ [104mm] maximum print width
Serial, USB, LAN, wireless 802.11b/g with WPA2 security protocol (optional)
PL-Z, PL-I, and PL-B emulations on the DPL versions

View Product

---

The WS2000 Wireless Switch is a powerful all-in-one solution that simplifies and helps reduce the costs of managing wired and wireless (802.11a/b/g) networks in enterprise branch offices. The integrated router, gateway, firewall, Power-over-Ethernet (PoE) and more eliminate the cost of purchasing and the complexity of managing multiple pieces of equipment. Support for Wi-Fi Multimedia extensions (WMM) and SIP Call Admission Control enables the WS2000 to provide peak performance for even the most demanding applications, including voice and video. The ability to easily and cost-effectively scale to meet growing needs, as well as upgrade to support new security, radio and other standards provides the assurance that the WS2000 will meet your needs today and tomorrow. The WS2000 — enterpriseclass networking functionality, priced for the small to medium-sized business or enterprise branch office.

View Product

---

ZEBRA ZT510 – NEXT-GENERATION PRINTING THAT IS BUDGET-FRIENDLY

Designed to strike the ideal balance between performance and value, the Zebra ZT510 includes the core features you need in an industrial printer at a cost-effective price point.

View Product

---

AWR6 is a wax ribbon highly recommended to print smooth label materials like glossy papers or some synthetics, providing a wax printing solution with relatively good resistance on high quality label materials.

View Product

---