Model 5300 Series Direct-Tamp Label Printer-Applicator
This Weber exclusive Model 5300 label printer application system provides high-resolution printing and high-speed operation combined with the dependable direct tamp method of label application. This method is similar to tamp-blow, but the flexible tamp pad makes direct contact with the product during application.
Print and apply labels on a production line in one easy step
Choose from a wide range of 203, 300 and 600-dpi print engines
Capable of handling print speeds up to 16 ips
Numerous I/O's ease interfacing with external devices
Monitor the operation via a web browser
Available with RFID capability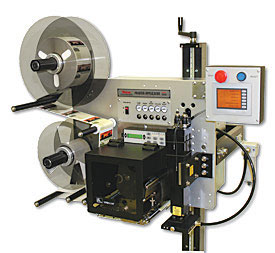 Model 5300 Series Direct Tamp Label Printer-Applicator

Weber's Model 5300 direct tamp module provides an accurate, versatile means of pressure-sensitive label printing and contact application.
In addition to offering a broad selection of high-quality print engines that feature various print resolutions and label dispensing rates, this Model 5300 system is available with optional RFID print-encode engines.
Standard direct and thermal-transfer print engines from manufacturers Zebra, SATO and Datamax produce text, bar codes and graphic images at 203, 300 or 600 dpi. The Zebra-based RFID models combine these printing capabilities with the encoding and verification of RFID inlays to meet EPC Gen 2 protocols.
Special Features & Options
The Model 5300 direct tamp system includes a number of noteworthy features that add to the operational versatility of this printer-applicator:
• Direct tamp application: This method of application is similar to tamp-blow, but the flexible tamp pad makes direct contact with the product. A printed label is fed into place and held by vacuum on the applicator pad; the pad is then extended and the label is applied to within a placement accuracy of ±0.03″.
• Browser-based monitoring: The status of all operational functions and configurations can be monitored by logging on to a web page that is unique to each Model 5300 unit.
• Numerous I/O's: The system can be interfaced with many types of external devices.
• One-to-one media consumption: Special label unwind and rewind dimensions are matched to the system's ribbon supply to ensure they are consumed at the same rate, reducing downtime and eliminating partial changeovers.
• Print job storage: Multiple label printing formats can be stored in the system's memory, making it easier for an operator to select a job directly from the applicator instead of downloading a computer file.
The Model 5300 direct tamp system boasts numerous additional features, including an upgradeable microprocessor controller, various inputs/outputs, plus durable construction that will withstand harsh industrial environments.
There also are several optional enhancements that can increase the system's functionality. A product height sensor, for example, enables the printer-applicator to label items of varying heights delivered by the same conveyor.
Other options include a 15-foot umbilical connection that enables the remote location of the unit's controller; an adjustable stand for optimum system orientation; label-on-pad and product-presence sensors; plus beacon light alerts to signal the status of label and ribbon supplies.
Adobe Reader is required to open and view PDF files. This can be downloaded free from adobe.com.
Available Documents
5300
FEATURES

High Speed Throughput
203 / 305 dpi
4 and 6 inch Print Width
Multilingual Display
Flexible Connectivity
Powerful Memory
Windows® Compatible
RFID Ready and Upgradeable

View Product

---

The advanced Symbol LS7808 horizontal slot scanner from Zebra delivers exceptionally high first-pass read rates for faster checkout times
— and better customer service. The Symbol LS7808 represents the latest development in our three decade leadership in designing bar code scanners and our pioneering work in horizontal slot scanner technologies. The omni-directional scan pattern reads the bar code regardless of orientation, eliminating the need to precisely align products to the scanner. Advanced software algorithms reconstruct poorly printed and damaged codes, further increasing performance and speeding customers through the point of sale.

View Product

---

The H-Class is a rugged and versatile printer that offers one of the most feature rich solutions for dynamic enterprise applications and is twice as fast as other printers in its class. The H-Class is ideal for high-volume label printing in manufacturing, warehouse, transportation, and high resolution labeling.

View Product

---

Bottle-Matic bottle labelers enable you to label all kinds of products by simply inserting the container and depressing a foot-switch. Labels are applied at over 4.5" per second – most water bottles are labeled in less than two seconds. The operator then removes the bottle and inserts another to start the procedure again. These automated labeling systems make it easy to label wine bottles, craft beer bottles, water bottles and most other round products.

View Product

---