DS6300 High Performance Laser Scanner
The DS6300 Datalogic scanner is designed to offer a complete and modular solution in terms of reading performance, connectivity, ease of use and maintenance. New HW and SW platforms and an innovative mechanical design have been developed to provide the scanner with extreme flexibility. The GENIUS™ SW configurator enables easy scanner set-up, utilizing a Wizard for obtaining the desired configuration in a simple step-by-step process.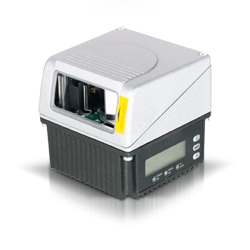 The icons and graphics used in the Wizard make the DS6300 very easy to install, even for first time users, while the Step-a-Head™ feature makes it possible to always install the DS6300 in the ideal position. The DS6300 is equipped with a "2-step" mechanically adjustable focusing optic, providing the scanner with a reading range from 250 mm to 2,000 mm. The reading field width at the minimum distance and reading performance on very low contrast bar codes are among the main benefits of this scanner. It is also available with an integrated SW programmable oscillating mirror and built-in connectivity to Ethernet, DeviceNet, and Profibus.
The DS6300 has a practical display with keyboard that increase the scanner's ease of use by showing bar code data read (local echo), statistics and diagnostic data. With the DS6300, Datalogic provides mid-range industrial bar code readers with top-class performance. As a result, the DS6300 is the optimal solution for a wide range of manufacturing applications both in the factory floor and warehouse.
Applications:
This product series has been developed to satisfy to requirements of the following reference applications:
Reading on pallets
Automated warehousing
Reading on forklift trucks
Picking systems
Shop floor applications
Adobe Reader is required to open and view PDF files. This can be downloaded free from adobe.com.
Available Documents
DS6300 DataSheet
Versatile, Four- and Six-Inch-Wide – OEM Print Engines PAX 4™ print engines deliver superior performance and reliability. The 110PAX4 and 170PAX4 print engines are the performance leaders in mission-critical print-and-apply applications. With enhanced connectivity, including wireless and Ethernet, along with all-metal construction

View Product

---

E is a synonym for the word "ENHANCED". Underneath is the system diversity based on modular construction. The design comprises a feeder module, a printing module, label winder and unwinder and numerous applications such as feeder dies, for example. The standard feeder die has a quick-change system which significantly reduces the changeover time to other label formats.

View Product

---

MC45 – Enterprise Value Without Compromise

Regardless of whether your customers are a small or medium-sized business, or in an emerging market, their field workforce is repairing equipment, writing sales or picking up and delivering shipments – and they all have one thing in common. They provide daily touch points with their clients. How fast and how well they perform their jobs directly impacts their revenue, customer satisfaction, customer retention — and the cost of their labor pool.

View Product

---

Zebra's popular QL family of direct-thermal mobile label printers has built a highly satisfied following based upon its proven dropresistant
durability; user-friendly, productivity-boosting features; and easy integration. As Zebra's third generation of QL printers, the QLn series extends these QL-platform benefits to the 'nth' power.

View Product

---