Mobile Print & Ship and Online Print & Ship
"Mobile Print & Ship" uses an RFID desktop printer placed on a mobile trolley which can be used for a variety of production and logistics scenarios. Using this system, tags can be defined and printed locally at the product itself. The operator first scans the pallet barcode, which is then transmitted to the printing unit. […]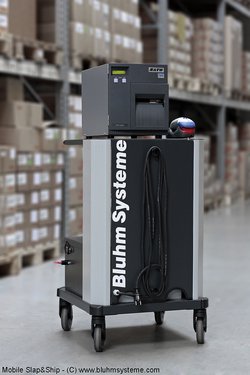 "Mobile Print & Ship" uses an RFID desktop printer placed on a mobile trolley which can be used for a variety of production and logistics scenarios. Using this system, tags can be defined and printed locally at the product itself.
The operator first scans the pallet barcode, which is then transmitted to the printing unit. The printer then uses this barcode data as input for the creation of an EPC (Electronic Product Code). Finally, the labels are applied by hand to the items.
The "Online Print & Ship" solution also involves the use of an RFID desktop printer. However, in contrast to the "Mobile Print & Ship" variant, the "Online Print & Ship" solution is a fixed installation, equipped with an online connection. The solution is necessary in situations where the packaging does not contain all of the information required for the automatic generation of an EPC – such as the EAN-18 number, for example. In such cases, the package or order number must be checked against a database (for example) in order to determine the EPC that should be generated.
Another scenario in which an online connection is advisable is when the ordinary EPC generation and labelling process needs to be documented in the company's own database.
Both the "Mobile Print & Ship" and "Online Print & Ship" systems can process label formats from 19 x 6 mm to 228 x 2,540 mm and come with a "Flag Tag" option, which increases the read performance of RFID tags on metal surfaces or with liquids.
RFID desktop printer Zebra R110Xi4
This high-performance industrial printer enables by combination with the innovative adaptive RFID-Coding Technology a maximum flexibility with printing, respective coding of RFID SmartLabels and up to all "Inlays". Hereby the Zebra R110Xi4 is particularly suitable for customers that have to process a high number of different SmartLabel- or even Inlay-variants with a high output.
Benefits from the Zebra R110Xi4:
RFID-Desktop Printer optimized for high quantities of labels to be printed
flexible by adaptive RFID-coding technology (a combination of several reader-elements), enables to write on different types of transponder, if necessary also in various positions
cost-efficient for consumables as RFIDTransponder (so-called "Inlays") can be coded also, thus SmartLabels are not required
Adobe Reader is required to open and view PDF files. This can be downloaded free from adobe.com.
Available Documents
The Axicon 12000 2D verifier is designed to give repeatably highly accurate results when verifying Datamatrix and similar barcodes. The Axicon 12000 conforms to all of the latest ISO, GS1 and Pharmaceutical standards – and the Axicon 12000 has pioneered the AI content checking for the different pharmaceutical requirements (CIP, Turkish Ministry of Health, etc). The Axicon 12000 is designed for all 2D barcodes where an aperture size of 3mil or more is required (up to the scan area available – see scan area details overleaf) – the user can set the aperture either directly or by specifying a required Application Standard.

View Product

---

LP3 is a 3" direct thermal portable label printer that delivers great paper capacity, long battery life and a range of wireless connectivity options for the retail and manufacturing marketplace.  And of course, the reliability Datamax-O'Neil is known for around the globe.

View Product

---

According to an EU regulation all new tires produced in or after January 2012 and placed on the market within the EU must bear a standardized EU sticker, such as those already seen on washing machines and refrigerators. The new label must contain precise details with seven grades (A-G) of fuel efficiency, wet grip, and exterior noise when in motion (in dB), respectively.

View Product

---

Summary

LABELS on the GO! provides you with the ability to print labels from a database of information, which resides on a Mobile Device, then prints to a Mobile Label Printer. Flexible configuration allows the user to design custom label formats that can include linear or two dimensional bar codes. Also defined by the user is a database of multiple data elements to drive label printing. Use LABELS on the GO! when labels are needed and you do not have access to your host system or when you need to print new labels that are not currently available from your application software.

View Product

---