H-Class Label Printer
The H-Class is a rugged and versatile printer that offers one of the most feature rich solutions for dynamic enterprise applications and is twice as fast as other printers in its class. The H-Class is ideal for high-volume label printing in manufacturing, warehouse, transportation, and high resolution labeling.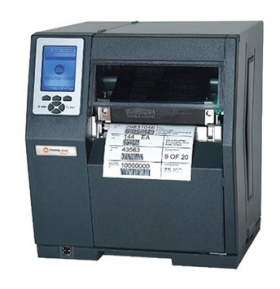 H-Class reduces the total cost of ownership with its gear driven design to provide rugged and reliable performance for 24 x 7 mission critical services. H-Class offers a broad range of connectivity to meet diverse application requirements and easily integrates into any network. Modular construction increases up-time for the highest levels of user productivity.
H-Class has the industry's largest graphical display and provides an easy to read view for quick navigation and printer notifications. Support of UHF and HF RFID configurations for current or future requirements protect your printer investments. The high quality features, performance, and rugged reliability make the H-Class the best
value of any premium printer on the market.
Applications:
[one_third last="no"]
Manufacturing
• Asset Tracking
• Finished Goods Marking
• Agency Labels
• Case Labels
Transportation and Logistics
• Cross Docking • Sorting Centers
• Shipping Labels
• Pallet Tracking
[/one_third]
[one_third last="yes"]
Food and Beverage
• High Resolution Labeling
• Expiration Dates and Time Stamps
• Product Identification
• Shipping Labels
Pharmaceuticals
• Compliance Labels
• Product Identification
• Track and Trace • Pick Lists[/one_third]
Zebra's GK™ Series and GT800 desktop printers combine dependable printing with fast print speeds and network manageability. With their easy-to-use design, Zebra's advanced desktop printers enable you to improve operational efficiencies.

View Product

---

FEATURES

High-performance printing
203 x 305 dpi
Print width 4 and 6 inches
Multi-language display
Flexible connectivity
Large memory
Windows® – Compatible
RFID Ready!

View Product

---

FEATURES

Print speed up to 305 mm per second
Left or right handed available
Robust industrial design
Easy Connectivity
Especially for Print & Apply designed systems
RFID ready!

View Product

---

In the mission-critical world of healthcare, caregivers need to be able to accurately capture virtually any barcode, on any medium, in any condition — with first-time every time predictability. And with the DS4308-HC on your workstations-on-wheels and other carts, they can. The DS4308-HC does it all — 1-D or 2-D, electronic or printed on paper labels, tiny dense codes on the curved surface of a vial, codes printed on reflective surfaces like IV bags, codes under shrink wrap on doses of medication — and even smudged, scratched or poorly printed barcodes. The result? The priceless peace of mind that the right patient received the right medication and the right test results, every time.

View Product

---