Alpha Compact X1 Jet
The Alpha Compact Inkjet combines the proven and renowned Alpha series labelling system with the compact Markoprint inkjet printer for a simple low cost Printing and Label Application Solution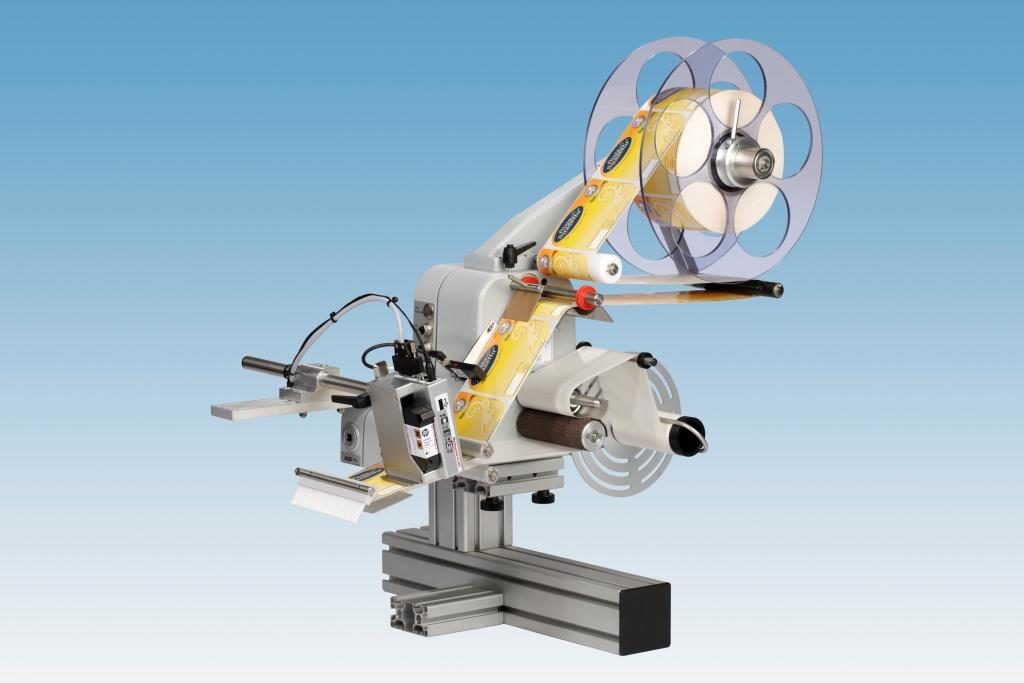 The Alpha Compact Inkjet combines the proven and renowned Alpha series labelling system with the compact Markoprint Thermal inkjet printer. The cost-efficient Alpha Compact labeling system features a small footprint,
yet employs a highly-accurate wipe-on method of application to affix pressure-sensitive labels on a wide range of packages or products on your production line.
The Weber Markoprint X1/X2 Jet Thermal Ink Jet Coding Systems are high-resolution coders that provide reliable, cleanly-readable text and bar codes on your products. The Markoprint Coder is fitted to the Alpha Compact Labelling System by using an extended Peeler Bar fixture on the Alpha Compact Dispensing head giving you a modular solution that allows you to disable the Inkjet Coding System should you require Application Only of Pre-Printed Labels with the benefit of a simple Coding Solution for printing of Date Codes, 2D Codes etc. We see this product as an effective alternative to the larger more costly Printer and Apply Systems in the marketplace today.
The Markoprint X Jet systems are easy to operate. They use convenient HP/Lexmark ink jet cartridges that make it fast and easy to change ink formulations or add ink. If you need clean, high-resolution text, bar codes or graphics on your labels, then the X Jet systems are the solution. The ink dries almost immediately (depending on the formnulation) and is durable for most applications
Features and Benefits:
• Ideal solution for basic printing of, shelf life, barcodes, 2D codes, graphics and logos
• Easy to transmit data via USB, Ethernet, or directly from a PC
• Up to 3 000 serializations per minute and 600 dpi resolution, using low cost cartridge printing technology
• Up to 90 m per minute printing speed at 300 dpi resolution
• Integrated and automatic date functions with expiry calculator and serial numbers
If you are looking for a reliable, economical labeling system that is easy to set up and simple to maintain, then check out the Alpha Compact.
The ZT230 features the durability of a metal frame and cover with an icon based LCD graphical user interface and larger ribbon capacity for long lasting use in demanding environments.

View Product

---

These types of cards can be used in a wide range of applications including public transport for fare payment, access control, cashless vending, parking, loyalty, electronic purse, gambling, road toll, student, employee IDs in government and corporate environments, e-passports and other secure travel documents, and cards for cashless payment.

View Product

---

APR®6 is the standard wax/resin ribbon of the ARMOR range: very versatile, it has been conceived to print all kinds of self-adhesive labels at the lowest heat settings. It also provides a higher level of mechanical resistance compared to the wax ribbons.

View Product

---

Exotic spices need to have labels that reflect the quality and specialty of the product. And you need to create a unique look for your spice family so customers will look for the familiar package when they buy again. A good label design will entice customers to try your brand. By using metallic foils and gloss/dull varnish combinations, your labels can become a work of art.

View Product

---