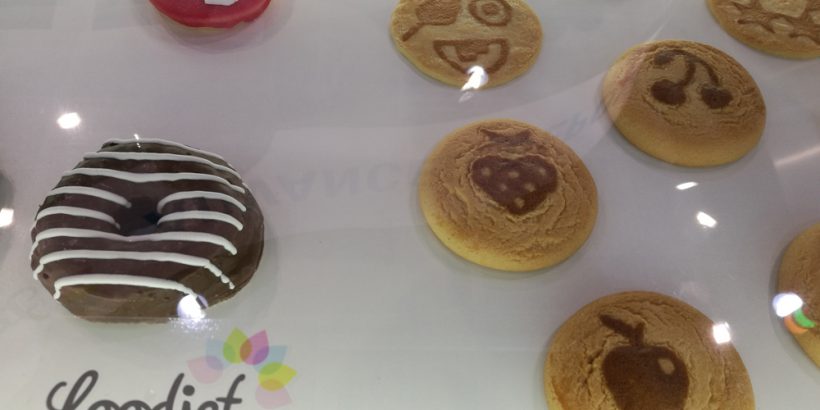 With these biscuits, which we discovered at the Interpack 2017, the crumbly monster, which is now on a diet, is weak. The biscuits were embellished with a food printer from the Dutch company FoodJet Printing Systems (www.foodjet.com). You really want to take a bite out of them.
The company sells pressure systems for food. This allows food producers to coat, decorate or fill their products with liquid sauces.
The food printers process all kinds of creams, sauces and liquid doughs such as egg, sugar, chocolate, jam or honey and syrup. But also, tomato sauce, olive oil, vegetable puree, cream fraiche and many others. This makes the FoodJet printers not only interesting for sweet pastries, but also for hearty pizzas.
Customized food printing
FoodJet system for decorating, filling or even individualizing baked goods.
With the FoodJet printer for chocolate, pastes and jams or jellies, food companies can decorate, fill or individualize their products. This printer is suitable for unique, customer-specific or seasonal products.
There is also a FoodJet system for liquid doughs and creams. Even thin films are possible.
The company also offers a system that applies precision to pizzas or other baked goods, no matter what shape or sauces you wish to use.
Biscuits decorated with sugar.
Zero-downtime and precision
The change to another design takes place on all printers with one button. The printer does not need to be stopped. Thus, the FoodJet systems are also ideal for small batches with frequent layout changes.
A vision system captures the position of the products so that they can be decorated with a precise point of view. Numerous small nozzles apply the liquid mass to the food with a positional accuracy of 0.5 mm.
Direct labelling of food
Gelasted fruit and vegetables
There are many ways to label food directly. Currently, there is an ongoing project with the supermarket chain REWE, in which a laser information or a logo on fruits and vegetables is applied. The laser replaces a label in this case.
In addition, there are also inkjet printers with food grade inks. The Food Grade Coder from Linx with food-borne inks is suitable, for example, for labelling foodstuffs and farmed eggs .
At the packaging trade fair Interpack in Dusseldorf , Bluhm Weber Group has also presented a food ink for Hewlett Packard this year . It allows, for example, high-resolution prints on biscuits.