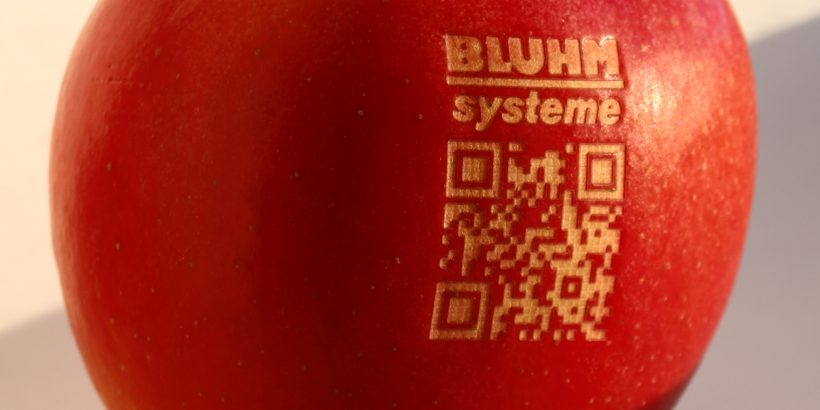 Food labeling with lasers? No problem. As an identification provider, Bluhm Weber Group already has experience with this: also with laser marking directly on the product. You will be amazed at what is possible and what advantages the laser offers.
Lasers enable exciting applications in the food sector: laser labeling can directly characterize baked goods and even fresh fruit and vegetables. The laser marking is safe and has no effect on the quality of the food. The organic brand Nature & More has made a great contribution to the environment through the transition from labels to laser marking and benefits consumers.
Food labels with laser
The labeling of food packaging with lasers is common practice. LSI Germany GmbH – formerly Unilever – marks the packaging of the mini salami bifi with a laser .
But increasingly food is also directly labeled with lasers.
In the bakery industry, laser marking systems are an interesting alternative to prepress stamps to apply logos or brand names to bread, rolls or wafers. With IP 55 or IP 65 protection, they can be used without problems in flour dusty or wet-cleaned production environments. Lasers provide the information quickly and allow variable identifications. In contrast, marking with prepress stamps is inflexible. They also wear out. In the Bluhm laser laboratory, we have drawn contours in the past with a CO2 laser on wafers and applied a Datamatrix code. And so precise that a professional camera can also read out the Datamatrix!
However, fresh fruits and vegetables can also be labeled with lasers. As early as 2014, Bluhm Weber Group has used an appraisal for its exhibition appearance at the packaging trade fair FachPack in Nuremberg.
Since 2013, the EU has been able to produce lasers of fruit and vegetables
In 2013, the EU agreed that fruit and vegetables may be labeled directly with lasers. In Australia and New Zealand, fruits and vegetables have been leaking since 2009. In the United States, the authorities responsible for food safety have also approved natural labeling and declared it to be safe. A low-energy CO2 laser is used for the identification of such foodstuffs. It heats the shell and makes sure that the color pigment evaporates at a suitable place. The look, the taste or smell are daurch adversely affected in any way. Furthermore,
Nature & More relies on natural labeling
Recently, Nature & More, a supplier of organic fruit and vegetables, has discovered the positive properties of laser marking and has recently characterized the products with a bundled laser light beam. Where used to label avocados and co-labels with an organic logo or EU organic label, a clean and well-visible laser marking is now visible. In the process of marking, only the top pigment layer of the dish is removed in the fruit and vegetables. One speaks in this context also of natural labeling. Because, apart from light, no additional auxiliaries and contrast materials are used.
Together with the Swedish supermarket chain ICA, Nature & More is launching avocados and sweet potatoes with its eco-friendly label. Individually marked, without packaging. Through laser marking on each individual product, Nature & More saves millions of plastics packaging. In 2017, 750,000 bags of plastic (so-called flow packs) are used in which the avocados have been packaged so far. But not only packaging waste, but also CO2 emissions are reduced. In 2015, Nature & More sold 725,380 packs of organic avocados to Swedish ICA supermarkets. That was 2042 kg plastic! By dispensing with the packaging, Energy and thus greenhouse emissions are now being saved. In the case of avocados alone, CO2 savings are as much as would be released around the world 1.3 times during a car trip.
In addition to the environment, the consumer also benefits from this: he can now buy individual bio-avocados or sweet potatoes and does not have to take the large packaging unit.
Food labeling with laser has advantages:
Long-term cost- effective, since no consumables such as ink or label
Energy-saving – packaging and stickers are not required
Easily readable
Durable labeling – labels are particularly vulnerable to corrugated trays such as avocados or loamy as in potatoes and can drop during transport

Gentle labeling process
Flexible: variable marking possible 
To Nature & More
Nature & More is a brand of the international company Eosta. Eosta sells fresh, organic fruit and vegetables. Nature & More represents thousands of biological, biodynamic and faitrade producers. Nature & More attaches great importance to sustainability and transparency. Each product has a three-digit code. If the consumer enters this on the website www.natureandmore.com , he learns more about the origin of the product . He also gets to know the producers with his stories. The Sustainability Flower , introduced by Nature & More, provides information on the extent to which the producer is organic . But his social commitment also makes up the flower.