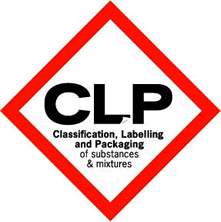 In June 2015, the phased transition period ends for mandatory CLP chemical labelling in the EU.  All hazardous chemicals (substances and mixtures) placed on the market must be classified, labelled and packaged according to the CLP Regulation (EC) by 1st June 2015.
After June, all dangerous chemical substances and mixtures need to carry compliant CLP labels.
About CLP Labels & CLP Identification Language
CLP Labels have been developed to label dangerous chemicals and chemical mixtures to warn employees, handlers, customers and everyone who could get exposed with a system of pictograms and safety messages.
Almost all chemicals in the EU need to adhere to the CLP identification language to ensure the risks of exposure are equally understandable throughout Europe, because these chemicals are part of everyone's daily life.
Chemical labelling / CLP identification language:
the chemical's name and product identifier;
the suppliers' name, address and phone number;
the quantity of chemicals in the package;
hazard pictograms
signal words, hazard and precautionary statements
supplemental information
CLP compliant labelling rules are also set out to determine the colours, size of labels, formats, legibility and location of label elements.
Weber CLP Labelling
Become compliant with Weber Packaging Solutions
We have a unique range of hardware, software, materials and expertise to help you meet this deadline. We provide integrated labelling solutions that are uniquely engineered to blend the demands of a highly regulated industry with your product's identification and handling requirements.
Contact Us today for help and expertise on implementing compliant CLP labelling.