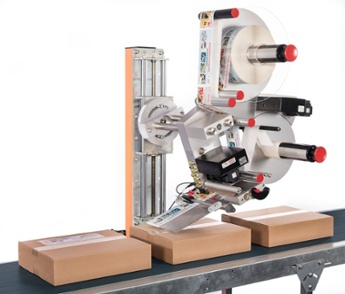 No two packaging lines are the same these days, with many companies demanding more flexibility for new automated labeling equipment to fit their existing production lines.
So Weber has come up with a solution – a new label applicator that can be configured to fit just about any packaging line.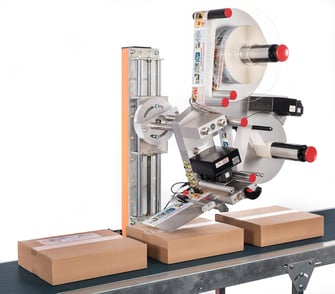 The Alpha HSM (High-Speed-Modular) label applicator is our new modular design that is based on various components that can be combined into the right system to meet your requirements.
The modules consist of a drive module, a label detection module, a dispensing module, an unwinder module, a rewinder module and an adapter module. These can be assembled according to a customers specifications using our configurator to create the perfect label applicator for their product line.
With the packaging industry asking for higher labeling speeds and more flexibility,  the Alpha HSM high-speed labeling systems can be configured in a variety of models that can handle multiple speeds and label sizes.
Weber engineered the modular Alpha HSM so that it can be ordered in ten different versions to fit just about any labeling application. Available in right- or left-hand versions, the Alpha HSM can be built with 5.3" (135mm), 7.8" (200mm), 9.8" (250mm) and 12.6" (320mm) label widths.
The system can keep up with line speeds up to 500 feet/minute with a labeling accuracy of ±0.01″ (with controlled product handling).
The Alpha HSM is IP65 rated for wash down applications.
All the systems feature multiple interfaces allowing connections for HMI display, product detector, rotary encoder, I/O signal, Ethernet network, and an aux in and aux out for sensor attachment.
The standard mechanical label unwinder and rewinder can be upgraded to a motorized servo-controlled system for higher labeling throughput speeds. Label application modules for the HSM include a fixed peeler plate, a swiveling peeler plate, a pneumatic peeler plate, and adjustable peeler plate or a pneumatic applicator. Label sensors can handle standard and transparent labels.
Three different user interfaces are available including OLED display, external PLC module or a web-based control. And the system is IP65 certified for dust and water spray protection and is constructed of durable aluminum with high rigidity for all working label widths.
The HSM is available is multiple configurations including: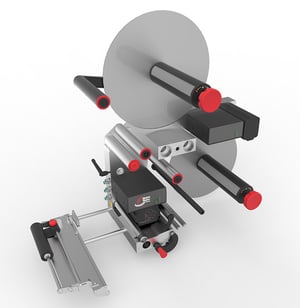 • Alpha HSM 135-RH-SE-U30M-R30M – Right-hand version with 5.3″ (135mm) wide label width, mechanical unwinding and rewinding, HMI display, 164'/minute
• Alpha HSM 135-LH-SE-U30M-R30M – Left-hand version with 5.3″ (135mm) wide label width, mechanical unwinding and rewinding, HMI display, 164'/minute
• Alpha HSM 135-RH-SE-U40SE-R40SE – Right-hand version with 5.3″ (135mm) wide label width, servo motor unwinding and rewinding, HMI display, 262'/minute
• Alpha HSM 135-LH-SE-U40SE-R40SE – Left-hand version with 5.3″ (135mm) wide label width, servo motor unwinding and rewinding, HMI display, 262'/minute
• Alpha HSM 200-RH-SE-U30MP-R40SE – Right-hand version with 7.8″ (200mm) wide label width, mechanical unwinding and servo motor rewinding, HMI display, 196'/minute
• Alpha HSM 200-LH-SE-U30MP-R40SE – Left-hand version with 7.8″ (200mm) wide label width, mechanical unwinding and servo motor rewinding, HMI display, 196'/minute
• Alpha HSM 200-RH-SE-U30SE-R40SE – Right-hand version with 7.8″ (200mm) wide label width, servo motor unwinding and servo motor rewinding, HMI display, 196'/minute
• Alpha HSM 200-LH-SE-U30SE-R40SE – Left-hand version with 7.8″ (200mm) wide label width, servo motor unwinding and servo motor rewinding, HMI display, 196'/minute
• Alpha HSM 320-RH-SE-U30SE-R40SE – Right-hand version with 12.6″ (320mm) wide label width, servo motor unwinding and servo motor rewinding, HMI display, 131'/minute
• Alpha HSM 200-LH-SE-U30SE-R40SE – Left-hand version with 12.6″ (320mm) wide label width, servo motor unwinding and servo motor rewinding, HMI display, 131'/minute