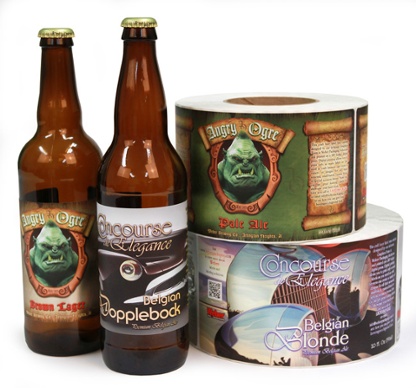 The craft beer market is booming! With more competition on the store shelves, brewers need to utilise their labels as a power marketing tool more than ever.
One of the best ways to do this is with eye-catching pressure-sensitive labels. We've put together 4 reasons why pressure-sensitive labels are best.
But first, what is a pressure-sensitive label?
Pressure-sensitive labels are like stickers. They are made up of 3 parts: face stock, adhesive and liner. Normally these are created by the roll but can also be printed by the sheet. Traditionally the beer industry has used sheeted cut and stack labels. These labels are pre-printed on paper and then glue is applied to the label and bottle during the application process.
Why Pressure-Sensitive Labels for Craft Beer Labels
The Digital Edge
The HP Indigo digital label press can print beautiful high-end labels. This printing method also requires less set up time than traditional printing allowing you to start at a much lower minimum order quantity. This is perfect for seasonal craft beer, small batch brewing or personalized event themed labels.
The standard order minimum for labels printed on the digital press is just 500. This gives the brewer flexibility to order only the amount they need and not hold on to a lot of label inventory. And it gives you the freedom to try new flavours because the initial expense is so low.
Unique Shapes
Pressure-sensitive label are die cut into the size and shape you want for your bottle. In addition to the hundreds of die sizes there are already available, you can be creative with your bottle design and order a unique, one-of-a-kind shape. Plus, if your labels are printed digitally there is no extra cost for a die.
Durable Materials
Cut and stack labels come in paper only. If you want a label that will perform well in a wet environment like an ice bucket or cooler, then a pressure-sensitive label is the best option. They won't dissolve or come loose in water.
Pressure-sensitive labels also have the ability to add laminates or varnishes to protect the label artwork or give it a special texture.
You can also choose a clear film label material which isn't an option with paper glue labels. This allows you to create see-through labels or unique shapes that seem to float on the bottle. This is a popular effect on many high-end vodka products.
Labelling Equipment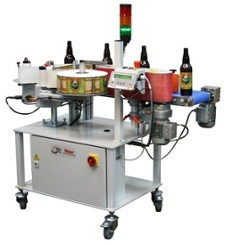 Pressure-sensitive labelling is a clean efficient process. Label applicators range from simple inexpensive table-top wrap systems, to a wrap system with a conveyor to a labeller that can apply multiple labels per bottle. These bottle labeller are automated systems that remove the label from its liner and apply it to the bottle. Depending on the size of your typical bottling run, there is a label applicator perfect for you that will apply your labels efficiently, quickly, and even get them on straight!
Remember, you have options when choosing your craft beer label material. But we think craft beer labelling using pressure-sensitive labels is the best way to showcase your brand.
Weber has decades of experience printing labels for the beverage industry. Let us show you how we can make your craft beer stand out from the crowd with a great looking pressure-sensitive label.