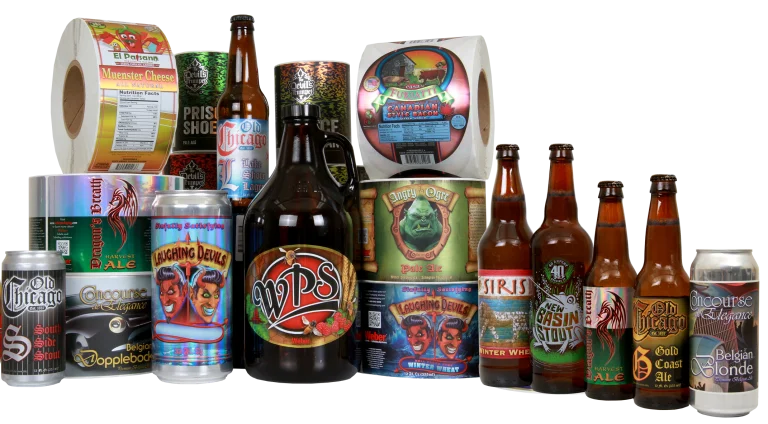 In the ever-expanding world of craft beer, standing out on the shelf is no longer a luxury – it's a necessity. While the taste of your brew is paramount, captivating custom craft beer labels can make all the difference in getting your beer noticed and flying off the shelves. Your craft beer label is your brand's first impression, and it plays a pivotal role in the growth of your brewery. In this blog post, we'll reveal the three crucial steps to selecting the best material for your craft beer labels and ensuring they leave a lasting impact.
Step 1: Choosing Your Base Label Material
Crafting the perfect beer label begins with selecting the right base material. We offer three top-tier label materials for your craft beer labels:
White Paper: White Semigloss paper material is a fantastic choice for labeling cold beverages. Its optimized opacity and brightness create an ideal canvas for your craft beer label design. While it's the most budget-friendly option, it may not withstand extended exposure to ice buckets or excessively damp storage. This makes it perfect for breweries just starting out.
White Film: White Flexlyte film material is designed for durability. It boasts outstanding opacity, a bright white surface for your design, and performs exceptionally well in the cold fridge environment. This film label stock excels in abrasion resistance and ultimate moisture resistance. Moreover, it allows for a sleek "no-label look" design, provided you colour match it to your bottle. This material shines on bottles and cans.
Metallized Silver Paper: The Metallized Silver paper material is the premium choice. Crafted thoughtfully with the right label design and printing technique, it can create a reflective effect on specific areas of your craft beer label, making them truly stand out. This premium material is perfect for breweries aiming to make a significant impact on the shelf.
Step 2:
Select Your Craft Beer Label Finish
The finish you choose for your beer labels is vital for both their performance and visual appeal on the retail shelf. Your label's graphics must be protected from a host of challenges, from production line abrasion to in-transit handling and moisture exposure. Here are your finish options:
Gloss Clear UV Varnish: This finish provides a protective coating with a brilliant shine, ensuring your craft beer label looks impeccable.
Matte UV Varnish: Choose this option for a protective coating that imparts a sophisticated matte finish without any shine.
Gloss Clear Overlaminate: Add an extra layer of protection and durability with a glossy appearance to your craft beer labels.
Matte Overlaminate: If you prefer a matte finish that's equally durable, this option is ideal.
Step 3:
Crafting the Perfect Beer Label Look
Pressure-sensitive labels offer unparalleled design freedom with minimal constraints on shape and size. Now, it's time to determine the overall appearance of your craft beer brand. Whether you opt for white paper, white film, or metallized silver paper, these materials can accommodate your boldest packaging ideas.
We've streamlined the process of custom craft beer labels. Our team will review it to ensure a flawless print. And if you need design assistance, our graphic designers are ready to lend a helping hand.
Remember, your beer's packaging is as important as the liquid inside the bottle. With consumers making quick decisions at the point of sale, your craft beer label needs to stand out. Get the premium look your craft beer deserves, one that sets you apart, drives brand recall, and earns customer loyalty. It's time to make your craft beer label as unforgettable as your brew itself.