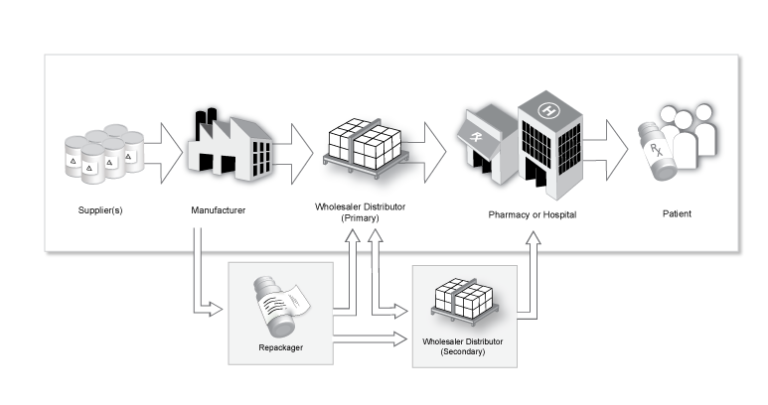 Serialisation and Identification Solutions for Pharmaceuticals and Medical Devices
How Pharma Companies can benefit from 84 years of experience and knowledge
Labelling & Coding is an essential part of the lifetime of any product, from raw material through to the end user. Healthcare systems around the globe are facing challenges that affect the entire supply chain. The sector is concerned primarily with two main issues: patient safety and greater supply chain efficiency and accuracy.
The facility to identify things uniquely and accurately is essential – be it a medication, an item of clinical equipment or even a patient. The regulatory landscape continues to evolve globally. New regulations in the EU, the US and elsewhere will have a major direct impact on the healthcare supply chain.
The final Delegated Acts for the European Falsified Medicines Directive were published in February 2016. In the Irish context, this means that all prescription medicines sold in Ireland will need to be fully EU-FMD compliant by 9th Feb 2019.
Choosing the right partner for your labels, labelling equipment and coding equipment is vital in today's fast moving and regulated environment. Not only should the labels, codes and equipment be fit for purpose but they should also stand up to the rigours of the manufacturing process with minimum downtime and ease of setup, product changeover and Operator use.
In all countries, the unique information required for a pack should be printed both in human
readable form – but also in some sort of data matrix or barcode. Even though most countries go for a GS1 standard, these differ, e g the linear barcode or 2D Matrix. The EU requires randomised serial numbers, whereas some jurisdictions require the government or a local agency to issue strings of numbers for a batch to the product owner (eg China), and yet some countries have no requirements on randomisation or pre-decided numbers.
Additionally, there are also requirements for printing techniques (laser print or ink) and for tamper evidence e g security seals or labels, foil, or glued cartons. The serialised carton around a blister card would be of no use if you can tamper with the carton and replace the original drug with a counterfeit one.
How Weber can help?
Weber Packaging Solutions, with 84 years of experience in labelling and coding have a complete portfolio of equipment and consumables to help manufacturers comply with the upcoming directives.
See our range of Apply, Print & Apply and Inkjet Coding Solutions
Primary Product Packaging
Secondary Packaging – Bundling
| | |
| --- | --- |
| | |
| | |
Validation and Verification
Validation, verification and data capturing of the codes and label content is critical. Whether it is randomised numbering or pre-defined serial strings a robust solution for in line and offline validation and verification is required.
See our Axicon range of barcode validation equipment
Considerations for Supplier-Partner choice
Does the Supplier-Partner have a proven track record in supply, installation and support?
Can the Supplier-Partner supply all my requirements for labelling, coding, support and consumables?
What are the standard SLA's and protocols available?
What Technical/Engineering assistance is provided?
See our range of Apply, Print & Apply and Inkjet Coding Solutions
CONCLUSION
Implementation of the Falsified Medicines Directive requires many different disciplines. Developing solutions will be a team effort with manufacturers assembling consortia of specialists in coding, imaging, data management and handling. Be warned – this will take time and manufacturers are finding there is less time than they think.
In addition to the FMD legislation, the proposed European and existing US FDA Unique Device Identification (UDI) regulations are to the fore in the medical device arena and companies need to transform disparate medical identification methods into a standardised UDI system.
Serialisation is a complex area and the requirements are likely to develop and change over time. It is not an area that can be ignored regardless of whether the drug being sold is a new high-value medicine or a generic commodity preparation. Choosing the right partner for equipment supply, integration and support is crucial to the success of any serialisation project.
Weber Packaging Solutions, www.webermarking.ie , have been manufacturing and supporting industry worldwide since 1932. Our experience in every aspect of labelling and coding provides a unique overview of the requirements of all industries, systems integrators and suppliers. With manufacturing and support worldwide we assist global and local Food and Beverage manufacturing and distribution companies with their labelling and coding requirements by developing, installing and supporting our own Weber systems and also those of our key partners including Zebra, Sato, Datalogic and others. The ability to provide a turn-key solution comprising hardware, software, integration and consumable media along with support and training gives you "The Leading Edge" when partnering with Weber.
Contact Details
Sean Kenny                                                                                       

Business Development Manager (Ireland)

Phone: 00 353 (0)53 9233778