Zebra LI2208 Barcode Scanner
The LI2208 represents the next generation in 1D scanning and builds on our most popular scanner ever, the LS2208. You get the same reliability and ergonomics of the LS2208, combined with enhanced features such as extended range and support for mobile bar codes. With our best-in-class linear imager, you can count on unparalleled scanning performance on every bar code, every time. A patented single circuit board improves reliability by eliminating connectors and ribbon cables, which are the most common points of failure. You can drop it and use it in dusty and damp environments — and still expect reliable operation.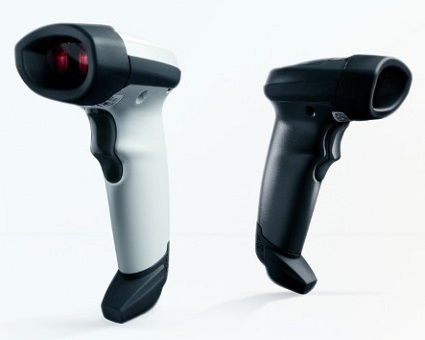 Get the next evolution in 1D bar code scanning and improve productivity in your operations with the LI2208. Virtually any 1D bar code can be captured — including the typical bar codes that are printed on paper labels; electronic bar codes displayed on the screen of a mobile phone, tablet or computer that allows retailers to easily process loyalty cards, mobile coupons and more; and the high density (HD) bar codes commonly used in specialty retail and electronic component manufacturing.
A patented optical design achieves an industry leading working range: 13 mil 100% UPC bar codes can be captured from near contact to over 30 in./76.2 cm away, while 26 mil 200% UPC codes can be scanned at 55 in./139.7 cm away. Since bar codes can be captured at extreme angles, scanning is easier than ever, so workers spend less time maneuvering the scanner and more time on task. And an optional stand enables automatic switching between handheld and hands-free modes.
Adobe Reader is required to open and view PDF files. This can be downloaded free from adobe.com.
Available Documents
LI2208
HIGH SECURITY RETRANSFER CARD PRINTERS

With Zebra's innovative ZXP Series 8 retransfer card printer line and Windows certified Drivers and ZMotif SDK software, create vivid color and monochrome cards on-demand with picture-perfect image quality. This retransfer printer is ideal for printing on uneven card surfaces, such as smart cards, or for when the application calls for very high image quality or cards that are more durable and abrasion resistant. Using an innovative retransfer print process, the Zebra ZXP Series 8 delivers superior print resolution at the fastest speeds in its class for high-quality photo ID cards with images and graphics that look more like glossy magazine prints than ordinary ID photos. The printer's modular design provides flexibility to add a variety of encoding options as needed.  Single or dual sided lamination is also available.

View Product

---

The Symbol DS6707-DP is a premier general purpose scanner, offering the maximum in data capture flexibility. The Symbol DS6707-DP is able to capture images and read virtually all 1-D and 2-D barcodes and direct part marks (DPM) — including the most challenging mark, dot peen.

This highly versatile device is ideal in industries that depend on a wide variety of data types, such as healthcare, aerospace and automotive. With the DS6707-DP, workers can capture the right information at the right time, driving inefficiencies and errors out of business processes — improving accuracy as well as employee productivity.

View Product

---

ACHIEVE CUSTOMER SERVICE EXCELLENCE AND ASSOCIATE PRODUCTIVITY

Add value to the customer experience with targeted promotions and offers based on buying preferences. Empower store associates to more efficiently manage inventory and pricing at the shelf edge. Reduce your overhead costs and improve customer loyalty with the MC Series multi-function retail mobile computer.

View Product

---

Milk labels come in all shapes, sizes and flavors these days. With all the new types of containers, it is sometimes hard to find the right adhesive to keep your label on your product. We have some great ideas that can help you improve the appearance of your milk brand. Weber can help you pick the right adhesives and facestock to stand up to the refrigerated environment and still look refreshing.

View Product

---