Working Apps' Tray Trace
Summary
Tray Trace is the effective answer to the management of re-useable containers. With the use of unique identifiers for each tray, container, roll cage, IBC, transit tank, barrel, gas bottle, potato box or pallet means these can be scanned on delivery, collection and at base to provide an accurate record of the container's use and current location. Re-usable containers are environmentally friendly if re-used; where are they going to, and who is losing and not re-using costs a business both monetarily but also in loss of resources. Further Tray Trace lets you record the condition of the container, its temperature and free text as an option.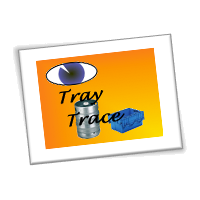 Description
Tray Trace has been designed to be flexible so that the application can be simply tailored to the customer's requirements. 2D barcodes are recommended for their durability, but 1D will also work.
The user signs on either using a user name or as a vehicle run.
The user once signed on; can deliver, collect or check trays by scanning unique barcodes on the trays. Optionally Tray Trace lets the user record the condition of the tray as a drop down list, and or other factors such as temperature, as well as a free comment field.
On collection the tray returns to the user or route, optionally recording the condition.
A full stock check of trays at depot can be made, or a single check for its location.
The output is a list of trays their location and optionally condition, so that the owner knows where the re-usable containers are "resting", and if required who to call to get them back.
---
Languages
Adobe Reader is required to open and view PDF files. This can be downloaded free from adobe.com.
Available Documents
Achieve a new level of productivity and throughput at the checkout stand with the DS9808 from Zebra. This groundbreaking scanner is designed from the inside out to bring a new level of versatility, functionality and performance to the checkout stand. Outside, the DS9808 offers an extraordinary one-of-a-kind hybrid form factor that marries a solid base with our advanced handheld ergonomics. The integrated base requires very little real estate at the point of sale — ideal for space constrained checkout stands. And inside, the DS9808 offers the very latest in scanning technology, delivering record swipe speeds for 1D and 2D bar codes, as well as the ability to capture images and signatures.

View Product

---


AUTOMATE INVENTORY AND ASSET MANAGEMENT

With the value-priced MC2100, get the features you need – from rugged design and superior ergonomics to powerful processing – to the get the job done.

View Product

---

Fast 4-inch thermal printers that are easy to use, easy to deploy and easy to manage, then choose the ZD420. Daily operation couldn't be simpler, thanks to a new ribbon cartridge with more status icons

View Product

---

The PV-1000 Portable display and collection unit has been introduced in response to the requests of our customers, who appreciate the ease of use and high level of repeatable accuracy of the Axicon PC and Mac-based verifiers, but would like to add portability to their quality processes. For existing Axicon verifier customers who now
find that portability would be beneficial in their quality control there is no need to purchase a new verifier – just add a portable display and collection unit to work with the existing equipment – the Axicon PV-1000.

View Product

---