Markoprint X1JET HP HandHold – Mobile Industrial InkJet Printer
Markoprint X1Jet HP Handhold    –  A powerful mobile handheld inkjet printer for use in multiple locations The Markoprint X1JET HP HandHold inkjet printer is a versatile, mobile, industrial, small character inkjet printer for use in multiple locations. The mobile industrial inkjet printer is battery operated and will print high resolution text and images without being fixed to a […]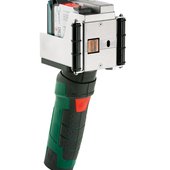 Markoprint X1Jet HP Handhold    –  A powerful mobile handheld inkjet printer for use in multiple locations
The Markoprint X1JET HP HandHold inkjet printer is a versatile, mobile, industrial, small character inkjet printer for use in multiple locations. The mobile industrial inkjet printer is battery operated and will print high resolution text and images without being fixed to a production line. The long-life battery is rated for printing over an extended period of time. Configuring the device and uploading of print images is a simple task using a USB stick and iDesign software.
The cartridge technology of the Markoprint X1JET HP HandHold is industry proven ensuring on demand, high-quality, high-resolution printing up to 12.5 mm high. The ergonomic design also makes the device lightweight and easy to use. The printer and its accessories such as the battery, charger,
USB stick, instructions and the iDesign software are secured neatly in a durable case.
Ink cartridge with SmartCard function
• The system detects the cartridge automatically
• Automatic ink detection and filling level memory
• Perfect printing quality and maintenance-free
The particularly compact and cost-effective X2JET plus system is ideal for the foodstuffs, chemical, building materials and pharmaceutical industries. The innovative system marks absorbent and semi-absorbent surfaces – fast, accurately and reliably.

View Product

---

With the new high performance Markoprint X4JET print controller, different inkjet printing technologies can be controlled either simultaneously or alternately.

---

Independent print system with LX technology Small and compact Control system and print head in one Simple and intuitive 3-button operation with LED control lamps for user-friendly system controls Integrated memory for automatic ink type recognition and storage of the ink level Automatic power adjustment for solvent-based ink LX NP1 Cost-efficient introductory system Variable controls via interface […]

View Product

---

The Markoprint iJET high-speed control system is small, compact and with many possibilities for interlinking. Special features: Unlike other coders, the entire control technology has now been incorporated in the print module for the first time. In this way, iJET creates novel highlights in terms of integration and flexibility.

View Product

---