Print, Code & Apply Flag Tag
The label applicator LA 5200 RFID is a true all-rounder, providing an all-in-one solution. The "Print, Code & Apply Flag Tag" process involves the automatic writing, printing and application of tags.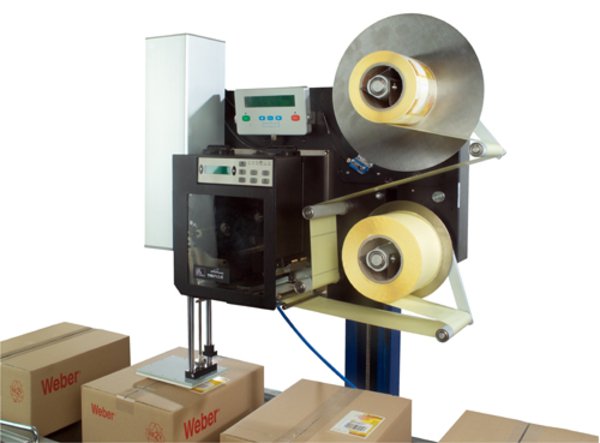 Depending on application requirements, label formats from 20 x 5 mm to 180 x 350 mm can be processed, with up to 210 labels being dispensed per minute. The process may also include the optional "Bad Tag Reject" unit, to ensure that only error-free tags are applied.
An "Auto Flag Tag" dispenser is also available for the LA 5200 RFID, to help achieve satisfactory performance when handling surfaces and products that are not optimally suited for RFID tagging because of their physical characteristics. The portion of the label that holds the RFID tag is automatically folded by the dispenser before application and is thus raised slightly above the surface.
Adobe Reader is required to open and view PDF files. This can be downloaded free from adobe.com.
Available Documents
The Series 3 is available in standard-, medium- and high-speed models. The systems apply front, back, wrap-around, top and bottom labels for the broad range of packaging markets – and for an even wider range of products and packages. These ruggedly constructed, dependable systems can be configured to handle a diverse selection of package shapes and sizes. And the Series 3 can dispense and apply pressure-sensitive labels from .5 inch high and long to a full 10 inches high and 39 inches long.

View Product

---

Weber's LA4050B Series Electric Labelling Print and Apply automated labeling systems feature industry-leading smart technology that use sensors to reduce label application complications, ensuring a one-to-one label-product match. As the leading all-electric Label Printer/Applicator manufacturer on the market, our pressure sensitive labeling systems enable customers to completely replace conventional pneumatic systems with semi-electric and or a fully electric option that controls the label with pinpoint accuracy in side, top, bottom and corner-wrap applications throughout the packaging process.

View Product

---

Offering a more flexible alternative to dot matrix technology, the GP-M831 combines the sturdiness of a dot matrix printer with the advantages of inkjet, such as wider media compatibility and higher-quality prints. Unlike dot matrix printers, the versatile GP-M831 can print advanced barcodes and crisp text, and can be used with a variety of media, including glossy paper and labels.

View Product

---

Summary

Manage your stock by checking the properties of your products and verifying they are correct. Alert, by incidents, the failures of the products checked. Send the incident report to the server to solve it or to have a movement report. Finally, print product related labels from your handheld device via cable, WiFi or Bluetooth.

View Product

---