EasyGo! TicketSalePro
Summary
Manage and control your ticket sales with this simple but customizable and powerful application. Choose the ticket type, the quantity of tickets to sell and the discounts to apply. Optionally, print the tickets and deliver them to your customer at the moment of the sale. Use the build-in calculator to help you charging your customers. Finally, the application will generate a file with the exact overview on how many tickets sold, which type, by when and finally by which mobile sales operator.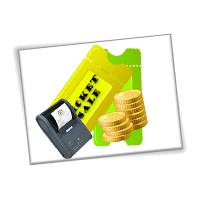 Description
EasyGo! TicketSale is a complete ticket sales application that will help your sales operators in the process of selling tickets on site to customers.
First, the operators will have to enter their user ids and passwords to sign in into the system. Optionally the system can be provided with a pre-loaded set of Users/Operators and login details. A validation is done and a valid user id and password is required to start working with this application. In case the system is not provided upfront with such pre-loaded User/Operator list it is still required to enter a user id. In this case, the user id is not validated but will allow future tracking on who was selling which tickets.
Once the operator is signed in, the ticket sales can start. When performing a new sale, an easy overview with all available ticket types is displayed. Additionally a column shows the quantity to sell (initiated to 0) and another column shows if any of the tickets being sold has a discount applied. To add or remove tickets or to apply discounts just select the ticket and press the related button in the bottom of the screen. A new sale is just a few clicks away! And it won't take hours of training before a new sales operator can start.
Once the sale is completed the sales operator can print the tickets and use the built-in calculator as a help to charge your customer the right amount. The tickets generated and the total amount of tickets and money are stored onto the resident memory of the PDA.
At the end of the shift the sales operator can easily review the tickets sold and get a summary of the amount of money involved allowing for a check the collected cash is correct.
Finally, upload all sales details to the host via cradle or Wi-Fi.
---
Languages
Adobe Reader is required to open and view PDF files. This can be downloaded free from adobe.com.
Available Documents
Weber's Model 5300 Dual-Label pallet labelling system combines a high-performance thermal/thermal-transfer label printer with a specially-engineered articulating swing-tamp applicator to perform the printing and two-label, adjacent-side labelling of pallets in-line.

Choose from a wide range of 203, 300 and 600 dpi print engines
Capable of handling print speeds up to 16 ips
Numerous I/O's ease interfacing with external devices
Monitor the labeller's operation via a web browser
Available with optional RFID capability
An easy way to add a two-sided labeller after your palletiser system

View Product

---

Regardless of whether the A+ printer is operated as a stand-alone solution, a PC application or in a network, it is always up to the mark!  The high-speed processor ensures fast job processing and immediate label output.

View Product

---

Based on DNP's proven wax technology, these quality ribbons expand your color possibilities while providing excellent print clarity and high smudge resistance when black just isn't enough. These ribbons are also specially formulated with DNP's backcoat technology for printhead protection.

View Product

---

FEATURES

Portable, Battery Operated
Real-Time Calendar for Date Coded Labelling
Wide and Adjustable LCD Screen Display
Easy File Transfer / Update of Product Lists
Multiple Language Printing and Display
Supports 2D Barcode Printing
Multiple Interface – USB / LAN
Compact

View Product

---