EasyGo! POD
Summary
Manage your deliveries with a simple, customizable and powerful proof of delivery solution. EasyGo! POD has GPS, image capture (requires 2D Imager) and signature support offering true Proof on Delivery as location, product and customer details including the signature are captured. Adding additional comments at the point of activity ensures the highest customer satisfaction. In addition to the delivery registration EasyGo! POD also incorporates the registration process for collecting packages from the costumer site at the very same moment the operator delivers the packages.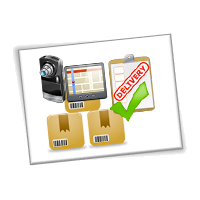 Description
EasyGo! POD manages your  deliveries easily and securely.
Once the POD terminal is filled with the relevant basic information such as Delivery Id, Address, Number of Packages the delivery can start! You can start delivering your packages now! Optionally it is possible having detailed information on the content of each package available for the operator should this it be required to match security or delivery instructions.
When starting the delivery process the operator will see a complete overview on all deliveries to do, sorted on predefined settings by the host/planning system. When the operator arrives to the delivery destination, he only needs to verify the delivery data, add comments if necessary, i.e. 'missing box' (the comments can be predefined in a master file), take a photo if required and finally, if needed, ask the customer's signature as proof of delivery. EasyGo! POD will offer as well Geo-tagging on this deliver as the GPS coordinates can be saved to all deliveries or collections.
EasyGo! POD is simple to setup as it only needs one single master file with the basic information of the all deliveries to do. If it is required for the delivery process additional information can be provided to the operators such as:
–        Details of each package for each delivery, package code and description, delivery instructions
–        Warnings and comments.
At the point of activity EasyGo! POD allows also for collecting packages as it includes a process to add new activities easily. Just enter the name or customer ID, address details, number of packets and the signature of your customer (optional) and the collection is created!
Finally, upload the register of your deliveries to the host via cradle or Wi-Fi.
---
Languages
English
Spanish
Adobe Reader is required to open and view PDF files. This can be downloaded free from adobe.com.
Available Documents
All-in-one photo ID systems help you create professional-quality ID, security and commerce-related cards simply and easily. Perfect for organisations of any size.

View Product

---

The SecurColour prints colour-enhanced labels and tags on demand to improve inventory organization, lowering the cost of inventory management and improving customer service.

View Product

---

High standards and dedicated inspection for quality assurance. Medical device labels require strict quality control during every step of the manufacturing process. On-press and post-press video inspection guarantees finished labels that meet your requirements.

View Product

---

FEATURES

High-performance printing
203 x 305 dpi
Print width 4 and 6 inches
Multi-language display
Flexible connectivity
Large memory
Windows® – Compatible
RFID Ready!

View Product

---