EasyGo! In&Out&Dispatch
Summary
Manage your receiving, shipping and warehouse transfers with a simple, customizable and quick application. When completing a receipt and shipping process in a warehouse mainly order number, product ID and involved quantity are required. In the case of warehouse transfers will take place (dispatch) additional information such as source and destination location next to the product ID and quantity are needed. EasyGo! In&Out&Dispatch will manage the registration of incoming and outgoing goods into your warehouse. Additionally it allows an 'automatic mode' for receiving, shipping and dispatching; simply read the product barcodes and the application will do the rest!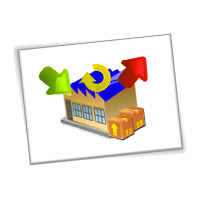 Description
EasyGo! In&Out&Dispatch manages receiving, shipping and dispatching items and products of any type of stock in your warehouse or logistics operations, with or without barcodes labels. Properties associated to an order are customizable for each customer.
The operator simply enters an order ID, provides additional information such as supplier or customer details, comments, and starts the receiving or shipping process. It's really simple: read the order, read the product, write the quantity, and the entry has been created! In the case of a dispatching process, the operator will only need to introduce the source of the product to dispatch, the destination, reads the product, introduce the quantity and the transfer is done!
EasyGo! In&Out&Dispatch doesn't necessarily need a master file to work, it is ready to go!
This will allow the operator a simple registration of all his activities without any particular checks done. It just registers the work done and obviously offers a detailed storage of those transactions. Optionally, you can provide a master file containing product information, allowing for more control and validations at your warehouse operations. If a master file is provided, you'll avoid receiving, shipping and moving incorrect products.
Additionally, an optional EAN master file can be provided to be able to read any EAN associated to the product.
EasyGo! In&Out&Dispatch Automatic mode offers a quick and efficient way to perform receiving, shipping and dispatching of products. Simply parameterize the application to work with this automatic mode; read a product code and it will be automatically registered with a fixed quantity. Read it again, and the quantity will be added to the current entry. Though in Automatic Mode you will always be able to manually change the quantities giving the operator full flexibility.
Finally, upload your receiving and shipping data to the host via cradle or Wi-Fi.
---
Languages
English
Spanish
Adobe Reader is required to open and view PDF files. This can be downloaded free from adobe.com.
Available Documents
FEATURES

Portable, Battery Operated
Real-Time Calendar for Date Coded Labelling
Wide and Adjustable LCD Screen Display
Easy File Transfer / Update of Product Lists
Multiple Language Printing and Display
Supports 2D Barcode Printing
Multiple Interface – USB / LAN
Compact

View Product

---

Summary

Solicom ClockInOut is an easy to use application, with just a single screen showing the current time and after scanning a badge, a welcome or goodbye message is shown for the person just scanned. Badges that are allowed for entrance can be put in a lookup table. All badges scanned are saved in a report table. Via a supervisor menu, activated by a configurable special badge number, the download and upload of both tables can be controlled.

View Product

---

Our special manufacturing capabilities and broad selection of matte and gloss varnish coatings and laminates help improve the appearance and long-lasting performance of your labels.

View Product

---

Auto-switching Universal Power
Supply for immediate adaptability anywhere in the world
Compatible with all Direct Thermal and Thermal Transfer printers
Electronic Speed Control will automatically synchronise winding speed to the speed of your printer
Provides passive winding without skewing print or barcodes on your labels
Rewind from 2.5cm to 25cm per second
Easily handles labels from 2.5cm to 10cm wide
Wind labels face in or face out

View Product

---