Axicon 7025-S Barcode Verifier
The Axicon 7025-S verifier is designed for all barcodes where an 8, 10 or 20mil aperture is mandatory (such as GS1-128 and ITF-14), up to 195mm width including quiet zones. The simple to use design reduces user error and eliminates product damage whilst providing the highest level of accuracy achievable for verification.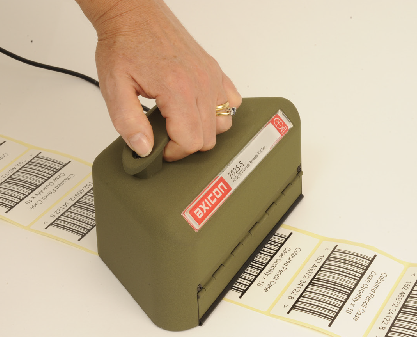 Traded Pack level (Warehouse) barcodes whether being verified on cartons, labels, corrugated board, shrink wrap film etc plus all pallet labels and linear barcodes of a similar size.
The "S" range of Axicon verifiers has a "Continuous Scan" feature. Just place the verifier over the barcode, press the trigger and slide the verifier over the code – in less than a second you can have results averaged over more than 150 scans of the code at different points in the bar height
FEATURES

Antimicrobial housing
User-friendly Operation and Maintenance
Print resolution 203/305 dpi
RFID Ready!
Prints labels , Receipts, tags and Bracelets

View Product

---

Get more done in less time with a durable and reliable barcode label printer featuring fast print speeds for high-volume applications. Zebra 11Xi4 are built for the toughest environments. Standard Features Print methods: Thermal transfer or direct thermal Construction: 12-gauge steel frame Single 32 bit 16 MB SD RAM; 8 MB non-volatile Flash memory Automatic […]

View Product

---

DNP has the most elite resin ribbon offering in the industry. R300's extensive label adaptability and high print speed capability makes it the most diverse resin of its kind. It outperforms the competition in abrasion and solvent resistance, uses less print energy and is designed with DNP's standard anti-static and backcoat properties to protect printheads and extend printhead life. And, like all DNP ribbons, R300 is an industry leader in Edge Definition™ producing dark, dense images for improved scan rates.

View Product

---

For manufacturers, wholesalers, retailers and offices, investing in high-quality and efficient label printers to have on the premises can bring significant long-term cost and time savings for your business. Up-to-date, accurate and fast labelling of products is essential in today's production and business world. With such a depth of experience and broad expertise, Weber Packaging Solutions is your best choice for label printers and label applicators in the UK & Ireland.

View Product

---