Axicon 6025-S Barcode Verifier
The Axicon 6025 – S verifier is designed for all barcodes where a 4, 5, 6, 10 or 20 mil aperture is mandatory up to a maximum width of 68mm including quiet zones. The simple-to-use design reduces user error and eliminates product damage whilst providing the highest level of accuracy achievable for verification.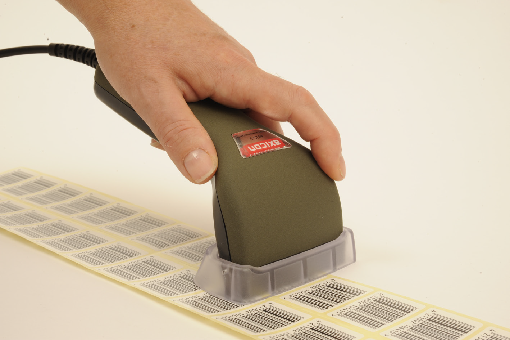 Consumer level (Point of Sale) barcodes whether being verified on film, cartons, bags, cans, pots or jars plus all linear barcodes of a similar size. The "S" range of Axicon verifiers has a "Continuous Scan" feature. Just place the verifier over the barcode, press the trigger and slide the verifier over the code – in less than a second you can have results averaged over more than 150 scans of the code at different points in the bar height.
Benefits:
ISO/ANSI verification standards
Over 150 scans / per second
Ideal for GS1 Databar Stacked Codes
Multi Language user interface
Ideal for barcodes with small height
USB2 Connectivity
When creating a family of furniture care products such as conditioners and oils, be sure to let the customer see exactly what they will be putting on their expensive wooden treasures. By using clear labels and containers, the buyer can see the products inside, showing your quality ingredients. And since your customer will be concerned about the ingredients, your label needs to show caution information and detailed instructions.

View Product

---

Used directly from it's own mains power supply or remotely from it's rechargeable batteries, the LD70 can dispense and apply labels up to 65mm wide and there is no restriction on the maximum length.

View Product

---

FEATURES

High Speed Throughput
203 / 305 dpi
4 and 6 inch Print Width
Multilingual Display
Flexible Connectivity
Powerful Memory
Windows® Compatible
RFID Ready and Upgradeable

View Product

---

Pressure-sensitive adhesive works not only due to its initial tack, but also its slight absorption into the surface of the label substrate. Because the specific characteristics of different substrates can prevent the absorption of adhesive and therefore weaken its adhesion, it is important to consider the substrate material and texture, its shape and its temperature at application.

View Product

---