Alpha Compact Pre-Printed Labelling System
Our Alpha Compact Range of Labelling Systems, Compact, Lightweight, Durable and Easy to Use.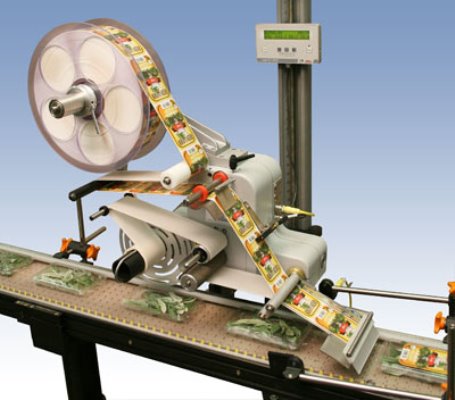 The Alpha Compact is a low cost modular Labelling System with a basic design and easy to use controls.  Changing the label size can be completed within a few seconds with a simple unwind release system and easy to use calibration process via a keypad. The controller can hold a number of Label Size and Speed parameters making product changes seamless. The system comes with a number of interchangeable options. The unwinder can be mounted at various positions on the Labelling Head for ease of integration in tight spaces, the Peeler Bar for dispensing the label comes in a number of lengths to suit product distance and label dispensing. The Peeler Bar also comes with a bracket to accommodate an Inkjet, or Thermal Transfer coder to give the user a complete Print and Apply Solution.
Advantages:
Integral Controller
Modular user interface (operation panel, display, PC-parametered)
User menu also available in multiple languages
USB-Interface allows up- and download of labeller parameter set-up
Enhanced reliability and performance
Modular system concept
Technical Key-Features:
Label Size max. 120 x 300 mm
Application Speed max. 600m/min
Rotating shaft encoder of 0-50m/min (infinitely speed adjustment)
Application Rate up to 600 labels/min possible
Application Accuracy +/‐ 0,8mm
Weight 22 kg
Environmental Temperature 10‐38°C
A core requirement of the European Directive 2011/62/EU that will come into force by 2016 is to equip the outer packaging of medicals with a tamper evident feature. Which should ensure the customer that he is the first opening the package.

View Product

---

FEATURES

Printing Labels and bracelets
Print Resolution 203/305 dpi
Antimicrobial housing
Small, compact
Easy maintenance

View Product

---

LS4208 handheld laser bar code scanner, you're able to effortlessly speed throughput, even with bar codes in poor condition. Wherever you need to quickly capture and process data — such as at the retail checkout counter, in pharmacies and hospitals, and in light warehouse environments — this ergonomically designed scanner helps you increase accuracy, improve productivity, cut maintenance
costs and reduce the risk of downtime.

View Product

---

DNP has the most elite resin ribbon offering in the industry. R300's extensive label adaptability and high print speed capability makes it the most diverse resin of its kind. It outperforms the competition in abrasion and solvent resistance, uses less print energy and is designed with DNP's standard anti-static and backcoat properties to protect printheads and extend printhead life. And, like all DNP ribbons, R300 is an industry leader in Edge Definition™ producing dark, dense images for improved scan rates.

View Product

---