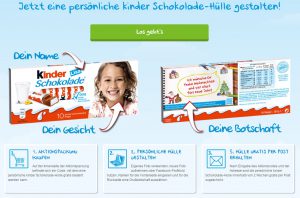 Thanks to the advent of Smart Labelling and Packaging, we can now customize the packaging of children's chocolate individually: To do so, you must enter online the action code of a newly purchased package.
You can then upload an image for the front and select a greeting for the back. In this way, chocolate packs can be designed with their own profile, a great marketing tool for manufacturers and indeed add the personal touch to food and beverage product for the consumer.
"Your face", the manufacturer – Ferrero calls this programme, which is running since mid-October. The individual packaging wrappers will be sent by post within two weeks after ordering.
The confirmation email is sent immediately after the order process, with an image of the packaging front page.
Do not have a promotion code?
If you want to buy children chocolate in advance, and therefore have no promotional code, you can then register on a special page. On this page, the manufacturer offers to raffle action codes.
By the way, action codes are often applied to packaging using both thermal and continuous inkjet printers. See the range of Inkjet Systems that we can supply for these solutions including special food-grade inks in our range, which can come into direct contact with the product itself