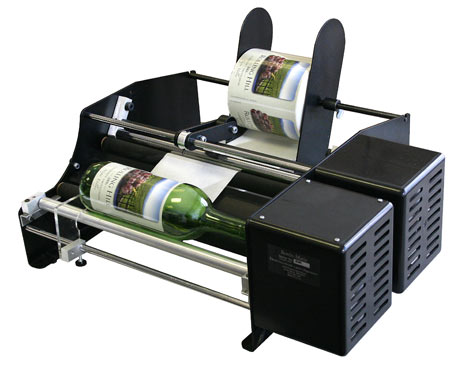 Beer Manufacturing to Pharmaceutical Manufacturing
We all know one beer is pretty easy to handle but what about 20 or 30 or even a 100 a minute? Weber recommends pressure-sensitive labels for beer, wine and even fruit juice bottles. Weber can label virtually any product, while meeting with all regulatory guidelines, regardless of shape and size.
We know how important the label is to your company and that is why we have over 80 years of experience invested in labelling and packaging solutions.
There is no product available that does not have competition in the beverage market.  In order to sell a product well, the packaging must be attractive to its target audience. High quality labels enhance the brand image of your product be that a bottle of water or the finest wine.
Weber has many labelling products to suit the needs of all beverage and bottle industries. For low volume labelling, we recommend the Bottle-Matic.
The Bottle-Matic applies labels to 20 to 30 bottles per minute. The label is applied flat and straight to the bottle every time. The Bottle-Matic is very economic and can label bottles front and back or with one single wrap around. The Bottle-Matic is a table top printer that works in cooperation with a production assistant that places each individual bottle onto the label applicator.
We know that customers no longer have the finances to invest heavily in advertising, which is why you need an attractive eye catching perfectly applied label. Let the product speak for itself.
As your production line gets busier and the volumes increase, we recommend a machine that uses pressure-sensitive label application that is applied automatically and easily. The pre-printed label is pulled away from its liner and applied gently to the bottle. This reduces the need for human input, applying the label accurately, reducing human error, time and cost. The Geset 100 – 300 Series practically pays for itself with unwasted man hours and high production speeds!

Don't know which Geset to go for, don't worry, all will be explained!  The Geset 100 Series is a simple and flexible piece of equipment as it is both technically optimal and economically justifiable. The Geset 100 Series may be integrated into existing production processes or operate as a manually charged stand-alone solution. The Geset series builds on the proven Alpha-Compact design as the dispensing module. No matter how developed your manufacturing process is, we have you covered.
The Geset 300 Series offers even more flexibility for higher volume. The basic concept of this system is based on two-sided labelling of moulded bottles without the use of run-around text blocks, meaning set up costs are low and product specific adjustments are easy to do. Now you are manufacturing up to 250 beers per minute.

The Geset 300 series is an asset to both the medium volume beer bottle and the pharmaceutical giant as it integrates into any manufacturing line.
Fancy a snack that needs labelling? Our Geset series also perfectly applies labels to other industries such as cake packaging or all-round labelling of pasta dishes.
If you product is in high demand and volume, then the Geset 700 series is for you.  The Geset 700 series is synonymous with individual customized labelling solutions and is highly effective across all industries.
So what is in a label?
Well a lot really! Nowadays companies and consumers work towards a greener environment, but what does this mean to you? At Weber we offer thousands of variations of labels. To aid a greener environment, we offer a Multi-cycle label which allows the bottle to be returned, recycled, rewashed and ready to go many times before the label needs replacing and it looks brand new every time! 

If you are not looking at reusing your bottle then maybe you should look at the wash-off label, this label washes off easily, ready to be recycled in your customers glass bin or bottle bank.
Weber also caters for many different styles of custom labels, such as the no-look label, this label shows off the contents of your bottle. Whatever the label, Weber have you covered. Call us today on
+44 1875 611 111 (United Kingdom).
Why Weber?
Weber has Worldwide Coverage with either a Weber Company or an approved Weber distributor in every part of the globe… well nearly! Weber manufactures its own range of Labelling Systems so you have guarantee of technical knowledge and availability of parts unlike some competitor's that are distributors only.
Weber has been a labelling systems supplier since 1932 and so has one of the largest knowledge base and technical knowhow compared with other smaller companies, which is what makes us unique.