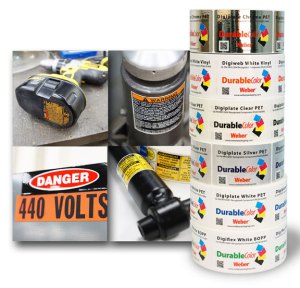 from Weber Packaging Solutions
A new generation of durable label material has arrived!
What are Durable Digitals?
They're a new line of UL-recognized, durable film pressure-sensitive labels printed via  HP Digital printing technology. These labels are perfect for harsh environment labeling where labels are exposed to chemicals, extreme temperatures, or UV light. Additionally, these labels often must be recognized by UL as being a component itself of the durable good.
The Advantages of Durable Digital Labels
Protected by a new Digilam Clear PET laminate that maximizes durability
Short- to mid-volume runs on durable labels – quicker than ever
Fast turnarounds that reduce label inventory costs by printing the quantity you actually need
One price, including all die tooling cost
Colorful, high resolution printing
Press proofs using these materials are available upon request
Three Types of Digital Durables
Digiplate PET– a strong material suitable for flat industrial surfaces. Ideal for indoor and outdoor use as it is resistant to high temperatures, UV exposure and chemicals. Available in white, silver, chrome and clear.
Digiweb White VINYL– a material suited for flat or curved surfaces. Great indoors and outdoors for shelf-bin warehouse labels, cylindrical tanks or other curved surfaces.
Digiflex White BOPP– an economical material perfect for printing decorative graphics. Specializing in clarity and durability, Digiflex White BOPP offers greater flexibility than PET products.