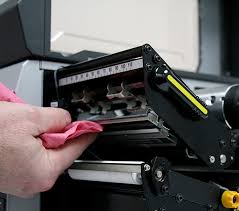 There are some simple things you can do to keep your labels printers running in top form. Good maintenance is critical to keeping your thermal printers running properly and avoiding expensive repairs or replacements. Thankfully, there are some easy ways to avoid downtime and unnecessary costs with proper thermal printer maintenance.
Here are the five things you should be doing regularly to maximize your printer lifespan and return on investment:
---
Clean Your Printhead
You should clean your printhead every time you replace the ribbon or a roll of labels, and, ideally, you should also clean the printhead between these replacements. Cleaning takes as little as one minute each time, but it can save you thousands of dollars in unnecessary printhead replacements.
If you're using a Zebra thermal printer, follow the instructions in your user manual and use the right type of cleaning solvent and materials for your model. If you need a Zebra printer cleaning kit, you can get one from our team at Weber Packaging.
---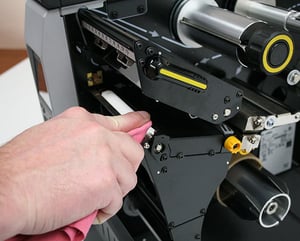 Clean Other Printer Areas
Always inspect the interior of your printer after changing rolls. Remove any particles, dust, or residue from the previous roll by using a soft bristle, duster, or vacuum cleaner. If your printer operates in a hash or dirty environment, pay special attention to cleaning these surfaces often.
Also remember to clean other installed accessories, such as a label cutter.
You should also clean your printer's outside surfaces using a lint-free cloth. Use a mild detergent for external residue and avoid abrasives and harsh chemicals or solvents.
---
Check Your Heat and Darkness Settings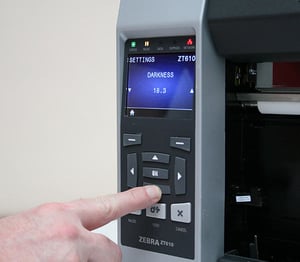 Incorrect heat and darkness settings will reduce your printhead lifespan, so always check your user manual for recommended settings for your application.
Make sure you're also using the right label media, so you're not having to use excessive print darkness to compensate for labels that can't endure sunlight, moisture, chemicals, or other environmental factors.
Too high of a heat setting can break low-temperature wax ribbon. And likewise, too cool of a setting will keep your resin-enhanced ribbon from printing cleanly especially with small text or graphics.
---
Keep Your Media Sensor Clean

Each thermal printer has a media sensor that keeps the space between your print media and printhead constant. If dust and particles collect on it, this build up can cause printer errors and stop your printing operations.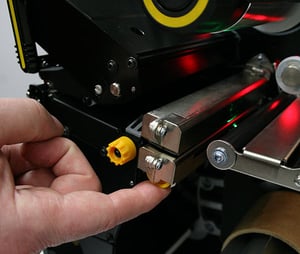 Before you install a new media roll, use an air duster and apply some air blasts to the media sensor. Doing this every time will help remove any dust and residue left behind by your previous media roll.
---
Perform a PAUSE Test
If some of your print output is missing content, a print element in your printhead may not be working.
To perform a PAUSE test, turn off the printer. Then press and hold PAUSE while turning it on. Hold PAUSE until the first control panel light turns off.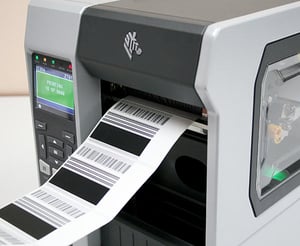 The self-test prints 15 labels at the printer's slowest speed and then automatically pauses the printer. Consult your Zebra user manual for more details on how to extend and alter tests and change speeds.
If your test verifies a printing a problem, it may be time to replace your printhead, which can be done by a certified technician.
---
Set up a Maintenance Contract
By performing the five steps above, you may be able to handle maintenance largely on your own.
However, to ensure the best printer protection and avoid having to do maintenance on your own, you can always set up a maintenance contract with your printer provider.
Your equipment vendor will take care of your needs with regular maintenance performed by certified technicians, according to precise manufacturer standards and guidelines.
At Weber Packaging, we offer professional Zebra thermal printer maintenance and repair through our nationwide direct service organization and Central Dispatch Center.
To learn more about maintenance contracts or get more tips and advice for maintaining your thermal label printers, contact Weber Packaging here https://www.weber.co.uk/about-us/technical-support/