EasyGo! PriceMark-Down
Summary
Print more labels, with or without changing the price, with this easy and quick app. Choose whether or not to use the item master file to load all products information and read or write (using barcode labels or not) the items to print the labels. Send it to the printer by Bluetooth, WiFi, or serial connection and already you have the labels! Finally, send too the report file to have a movement report.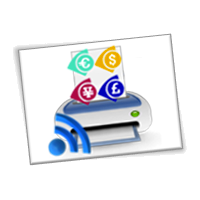 Description
Wasting hours and hours to execute price markdowns?
Tired of re-entering your price changes into your POS software?
Want to increase customer satisfaction with a up to date price-tags on your products?
Easily Go For  EasyGo!PriceMark-Down AppSource application as it allows for checking any type of stock, reset the price and print new price labels on a Zebra mobile label printer
The retail shop's operator needs to enter the new price and the number of labels he wants to print. By default the master price is displayed eliminating the change of wrong prices being entered
All other properties related to the product are not changed such as the product code, the description and EAN barcode number, if provided
The process in this Price Mark-Down App is made so easy as the operator only confirms the price and number of labels needed and the handheld device will print the new price label by cable, WiFi or Bluetooth connections to the Zebra printer. It's possible to use several label formats, so the user will be able to choose the right label to print if more than one label format is available (for example, location label, price label…)
One label format is supplied with the solution as a sample (ZPL) but it's possible to include additional formats having the customer's specific label requirements supported (size, printer model, information showed in the label, logo…)
EasyGo!PriceMark-Down does not need download files to work. It is however recommended to synchronize an item master file with from your POS system containing all product codes in stock with their descriptions and prices. By use of the built in barcode scanner of your mobile terminal the EAN item codes can be used for error-free identification of your products
When the operator has finished his PriceMark-Down tasks, a report with all changed is ready to be uploaded, via cradle or WiFi, to the host
If your mobile device is connected over WiFi toyour back-end system even an image of the exact article can be displayed making sure the right item has been PriceMarked-Down
Easygo! Offers ready to go Apps for your operations. Please check out our EasyGo! Inventory App as it can help you getting your stocks under control
---
Languages
English
Spanish
Adobe Reader is required to open and view PDF files. This can be downloaded free from adobe.com.
Available Documents
Special labels by Weber Marking Systems meet the most diverse of requirements and have numerous specialized features, depending on their purpose.

View Product

---

EASYMARK is the standard Weber wax ribbon which delivers consistent print
quality on any kind of paper label materials. It prints high density legible
barcodes and traceability data for short life labeling needs.

View Product

---

The Zebra DS3508 Series of rugged, corded digital scanners bring comprehensive, high performance data capture to harsh industrial
environments to improve business efficiency. Engineered with breakthrough digital imaging technology, this scanner family delivers
extremely fast and accurate data capture of one-dimensional (1D) and two-dimensional (2D) bar codes, images and direct part marks (DPM)
as well as Item Unique Identification (IUID)* support. Available in three models, the DS3508 Series of scanners can meet a wide variety of
data capture needs in multiple industries.

View Product

---

Independent print system with LX technology Small and compact Control system and print head in one Simple and intuitive 3-button operation with LED control lamps for user-friendly system controls Integrated memory for automatic ink type recognition and storage of the ink level Automatic power adjustment for solvent-based ink LX NP1 Cost-efficient introductory system Variable controls via interface […]

View Product

---