Deli Labels
We can work with you to create amazing looking labels that will work with your container and handle the environmental conditions that it will be stored in like refrigeration or moisture.  Your label has to not only keep your product safe but also needs to entice the customer into buying your product. Bright colors, metallic foils, clear films and more are just some of the design options that will set you apart from the crowd.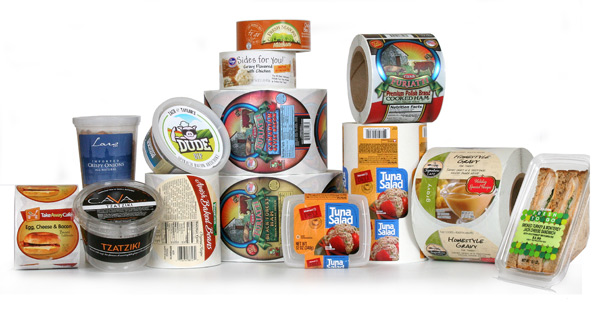 A Deli department usually has hundreds of different shaped containers and packages for all the delicious foods they sell. All those odd-shaped containers need labels. And the labels have to look good.
Deli Label Tips
Materials:
Use a clear label material or metallic foils for the look of quality and to create dimensional effects with your label.
Be sure to use label materials that will stand up to damp and/or refrigerated conditions.
Always test your label adhesives to make sure they will stick securely to your containers, especially plastic clamshells and other non-paper materials.
Artwork:
Use unique designs and colors to create a family of products. This makes it easier for consumer to return to your brand by sight.
Keep your design simple but eye-catching. Create patterns on your label or subtle designs using dull or gloss varnishes.
Custom die shapes allow you to use interesting shapes for your label.
Add a QR code so your customers can interact with your company, get coupons, recipes and more.
---
Gravy Labels

Deli labels come in all shapes and sizes, and many of them are round labels used for clamshell and lidded containers like this gravy label.

This label is a great example of an appetizing design using complimentary colors and showing the product in use. This label is also part of a family of labels for this brand that are easily recognizable and that change slightly with the season.

These labels were printed on our high-resolution HP digital presses.

Label Size: 5.0″ circle

Facestock: Glossy paper

Print method: Digital

Top Coat: None

Deli Meat Labels

These labels are a redesign we did for a company that manufactures deli meats. The upgrade of their label included using foil to create reflective highlights and a more modern, realistic look to the label.

Photography does not do these metallic labels justice. If you would like to see what they really look like, click on the label sample request button below to receive your own copies. Just mention metallic labels.

Label Size: 4.5″ wide x 5.75″ high

Facestock: Metallic foil

Print method: Digital

Top Coat: Dull spot varnish
Adobe Reader is required to open and view PDF files. This can be downloaded free from adobe.com.
Available Documents
With uncompromising standards, the 4t/4te is engineered throughout to withstand even the most punishing portable applications, including multiple 6 ft drops to concrete. The 4t/4te prints outstanding quality 4-inch receipts, proof of deliveries, labels, and invoices. The 4t comes with Serial and IrDA communication. The 4te is every bit as rugged as the 4t but it offers enhanced processing speeds (10 times faster), greater memory capacity, USB connectivity power status lights, external charging, and optional Bluetooth and 802.11b/g wireless connectivity.

View Product

---

A new system for the classification, labelling and packaging of substances and mixtures was introduced throughout Europe on 20th January 2009, when the European GHS regulation (EC) No. 1272/2008, also referred to as CLP regulation, entered into force. The new EU directive also affects labelling requirements. New pictograms in the shape of a red diamond with a white background are replacing the orange ones in the EU.

View Product

---

The Weber 4050WO is a simple low cost Wipe on label applicator which comes with a choice of Print Engines dependent on the customers requirements. This system is suitable for Top, Bottom, or Side Labelling of Flat Surfaces with a choice of Dispensing Beaks to cater for any Labelling Challenge. The System is easy to integrate into an existing Line or as a Standalone Labelling System mounted on its own Stand.

View Product

---

LEADING THE WAY

A front-runner in the new generation of handheld computers, the ergonomic Nautiz X8 delivers the largest, most brilliant capacitive touchscreen in its class, along with an unprecedented combination of processing power, connectivity and field ruggedness.

View Product

---