Heavy-duty labels for harsh environments
Weber's line of tough film label materials are particularly intended to augment long haul execution of labels on items that need substantial obligation labels that last.
An overwhelming obligation label is proposed to stay with a strong item for the duration of its life and must withstand conceivable unfriendly situations, for example, exposures to chemicals, compelling temperatures, or UV light. Furthermore, the label regularly must be perceived by UL similar to a segment itself of the solid item.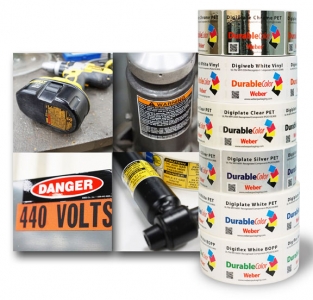 Solid items, for example, instruments, car parts, cautioning signs, shopper gadgets, mechanical apparatus and more need labels that will withstand rehashed utilize, misuse and unforgiving climate.
Durable Label Products:
---

Materials:

Three new item classifications of computerized label materials are currently accessible from Weber:
Digiflex BOPP, a practical material ideal for printing beautiful illustrations.
Digiweb Vinyl, a material for bended surfaces.
Digiplate PET, an in number material suitable for level modern surfaces.

Artwork:
Utilize brilliant hues when labelling cautioning marks to verify they are seen.
Subsequent to printing the labels, we cover them with our PET over overlay film to accomplish a long, tough life.
Low-print volumes of only 500 marks are accessible when utilizing advanced printing and our new sturdy computerized materials.