ZXP SERIES 8
HIGH SECURITY RETRANSFER CARD PRINTERS
With Zebra's innovative ZXP Series 8 retransfer card printer line and Windows certified Drivers and ZMotif SDK software, create vivid color and monochrome cards on-demand with picture-perfect image quality. This retransfer printer is ideal for printing on uneven card surfaces, such as smart cards, or for when the application calls for very high image quality or cards that are more durable and abrasion resistant. Using an innovative retransfer print process, the Zebra ZXP Series 8 delivers superior print resolution at the fastest speeds in its class for high-quality photo ID cards with images and graphics that look more like glossy magazine prints than ordinary ID photos. The printer's modular design provides flexibility to add a variety of encoding options as needed.  Single or dual sided lamination is also available.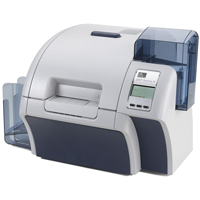 With fast speeds and a modular design, the printer is ideal for applications requiring a high-quality image, high security or printing on an uneven card.
Best-in-class throughput for printing, encoding and laminating – due in part to the patent-pending simultaneous two-sided retransfer process plus efficient landscape print mode – increases your operational efficiency without sacrificing quality.
Based on Zebra's image-processing technology, photo-quality colour and resolution are obtained to meet your quality and brand specifications
Designed inside and out to be reliable and durable, reducing repair costs and downtime.
Ideal for:
• ID and access-control cards
• Government-issued driver's licences
• National ID and voter registration cards
• Instant issuance of financial cards
• Personalised gift, membership and loyalty cards
• Smart cards in travel, gaming and entertainment
The compact and robust controllers XB4JET and XB8JET are used to control the inkjet printheads for product marking solutions. The following Markoprint printing technologies are supported: Hewlett-Packard, Funai, Trident.

View Product

---

The PV-1000 Portable display and collection unit has been introduced in response to the requests of our customers, who appreciate the ease of use and high level of repeatable accuracy of the Axicon PC and Mac-based verifiers, but would like to add portability to their quality processes. For existing Axicon verifier customers who now
find that portability would be beneficial in their quality control there is no need to purchase a new verifier – just add a portable display and collection unit to work with the existing equipment – the Axicon PV-1000.

View Product

---

Extend the benefits of RFID beyond industrial spaces and into customer-facing and business environments with the MC3190-Z. The MC3190-Z builds on with a rugged design and high performance industrial handheld with an advanced, high efficiency RFID reader engine for faster read rates and higher throughput. Add a ground breaking new orientation-insensitive antenna and the result is a highly versatile device that is at home in customer-facing environments, from retail stores and healthcare facilities to the office.

View Product

---

We offer a number of sustainable label products, including renewable films and papers, 100 percent post-consumer waste papers, dis-solvable and reputable papers, soy-based inks, and more. We believe that what is good for business can be better for the environment. We do not believe that being green has to cost more; no packaging professional should accept that. Here at Weber, we pledge to strive to develop products and process that improve our environment and our bottom line.


View Product

---