Zebra Symbol DS6708-DL Series Scanner
Utilizing driver's license information to increase productivity and reduce liability
The Symbol DS6708-DL combines all the features of Zebra's standard DS6708 imager, such as omni-directional 1D/2D bar code scanning, with embedded and server-based parsing agents that enable users to read the PDF-417 bar code on a US driver's license and use that information for a multitude of applications including auto-population of a credit or loyalty card form, age verification or returns monitoring. With a simple scan of a driver's license, retailers can increase efficiencies, reduce manual keying errors and ensure that they are complying with local, state and federal regulations regarding the sale of certain items such as tobacco and alcohol.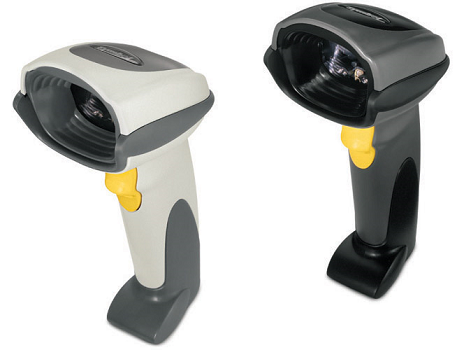 General Purpose Handheld Digital Imager Scanner
Parsing right out of the box – no IT needed
With parsing done in the scanner and controlled by the user, the DS6708-DL is especially appealing to retailers without centralized IT services. Since it works with multiple interfaces, operating systems and host configurations, and requires no additional software or licensing fees. It can be easily used in all environments with very little start up effort. For retailers who prefer to parse driver's license data using a server-based solution, Zebra partners with industry-leading software parsing capabilities can help implement the solution.
You'll have the latest DMV updates
Because different states use different data formats in their driver's licenses and these formats change from time to time, state by state, the DS6708-DL by Zebra offers a complete solution that includes yearly updates for new format releases from each state, helping to ensure that your investment is protected from the start.
Traditional scanning and more
The versatile DS6708-DL from Zebra not only offers PDF-417 reading and parsing capabilities, it also delivers the functionality of a traditional 1-D and 2-D bar code scanner, enabling you to meet additional data capture needs as required.
Adobe Reader is required to open and view PDF files. This can be downloaded free from adobe.com.
Available Documents
zebra 6708
FEATURES

Portable, Battery Operated
Real-Time Calendar for Date Coded Labelling
Wide and Adjustable LCD Screen Display
Easy File Transfer / Update of Product Lists
Multiple Language Printing and Display
Supports 2D Barcode Printing
Multiple Interface – USB / LAN
Compact

View Product

---

With Zebra's maximum rugged specifications, the DS3500-ER Series of full-range scanners can handle whatever comes its way. The DS3500-ER Series allows you to scan different types of barcodes across a wide range of distances — from near contact to as far as 30 feet away. Workers can also hold the trigger down to continuously scan items. It doesn't matter how well lit an area is — the DS3500-ER Series can read barcodes in darkness or in bright sunlight. Indoors and outdoors, you can drop it on concrete, cover it in dust or grease and continuously obtain the same reliable results.

View Product

---

When the demands of your high performance print and apply application require more features than existing print engines offer, it's time to move up to the A-Class™ Mark II. The A-Class Mark II family of advanced print engines is designed for high-demand multi-shift applications requiring fast throughput and proven reliability. It includes a number of innovative design features such as stainless steel hardware components, a modular design for enhanced serviceability, coated side in/coated side out thermal transfer ribbon assembly, a full graphics display, intuitive menu navigation, and an optional remote display.

View Product

---

Suitable for difficult environmental conditions and locations with high hygienic standards, as in the food, pharmaceutical and chemical industry. With mounting brackets for desktop or wall-mount installation.Integrated power supply unit, sealed cable glands for all cable connections.

View Product

---