Zebra – Symbol CS1504 Consumer Memory Scanner
While Web access has given customers the freedom to shop anytime, the Symbol CS1504 Consumer Memory Scanner from Zebra gives
them true mobility to shop anywhere. Another breakthrough in consumer bar code scanning technology from Zebra, the Symbol CS1504
Consumer Memory Scanner enables customers to capture bar codes on retail merchandise in order to create a shopping list, purchase an item or simply link to the Web for further content about the item of interest.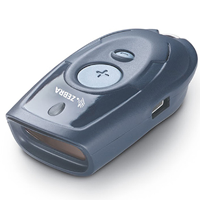 Anyone can use this pocket-sized scanner to read bar codes found on merchandise or in catalogs from virtually anywhere. Small and lightweight enough to fit in a pocket or purse, customers can use this scanner at home, in the store or on-the-go. It makes routine tasks, such as reordering groceries or office supplies, quicker and easier than ever before. Ideal for list-making and gift-registry applications, it can be a great incentive for your preferred customers.
Now you can embed bar codes in your print advertisements, catalogs and on merchandise to convert the printed page into a two-way communication channel between you and your customers – creating fast, efficient order entry and reducing the need for expensive, labor-intensive call centers.
When used with an Internet/Intranet store kiosk, the Symbol CS1504 doubles as an in-store mobile shopping tool. Shoppers can also use it to scan items for further information on price, availability,  features, rebates, special offers or similar products.
Merchants can respond with one-to-one marketing messages. Simply point, click and scan With the Symbol CS1504, customers simply point and click. Any bar-coded item is quickly and easily scanned and captured. Up to 150 codes can be stored in the internal memory and removed by the user at any time. Captured bar codes are easily uploaded to a host application via cable connection.
Adobe Reader is required to open and view PDF files. This can be downloaded free from adobe.com.
Available Documents
zebra cs1504
Once more Axicon has used its innovative skills and detailed knowledge of the barcode quality market to offer you the best in portable barcode verification. Introducing the Axicon PV-1072 – the ideal hand-held portable barcode verifier. Whether your priority is compliance, accuracy, reliability, ease of use, capability or cost this verifier ticks all of the boxes. Everything is geared to making the job easier – which means the job gets done quicker.

View Product

---

Matrix 210™ is the new Datalogic 2D reader offering extreme reading performance and integrated Ethernet in a ultra-compact housing.
Thanks to the WVGA image sensor, capturing up to 60 frames per second and to the powerful internal illuminator, Matrix 210™ offers extreme dynamic reading capability.

View Product

---

Markoprint X1Jet HP Handhold    –  A powerful mobile handheld inkjet printer for use in multiple locations The Markoprint X1JET HP HandHold inkjet printer is a versatile, mobile, industrial, small character inkjet printer for use in multiple locations. The mobile industrial inkjet printer is battery operated and will print high resolution text and images without being fixed to a […]

View Product

---

Independent print system with Trident Piezo technology Cleaning station integrated with print system All-in-one – print head, ink system, cleaning station, control electronics and power supply Simple and intuitive 3-button operation with LED control lamps for user-friendly system controls Available as 50 or 100 mm print head As Compact,  Top or Vario version With Scantrue […]

View Product

---