Zebra RW Series Mobile Printers
Zebra RW Series mobile printers are ideal for receipts and invoices on the go. The modular design gives users a choice of secure wireless options and card readers. The compact printer also offers convenient vehicle mounting and charging options, as well as user-intuitive interfaces and angled display for easy use.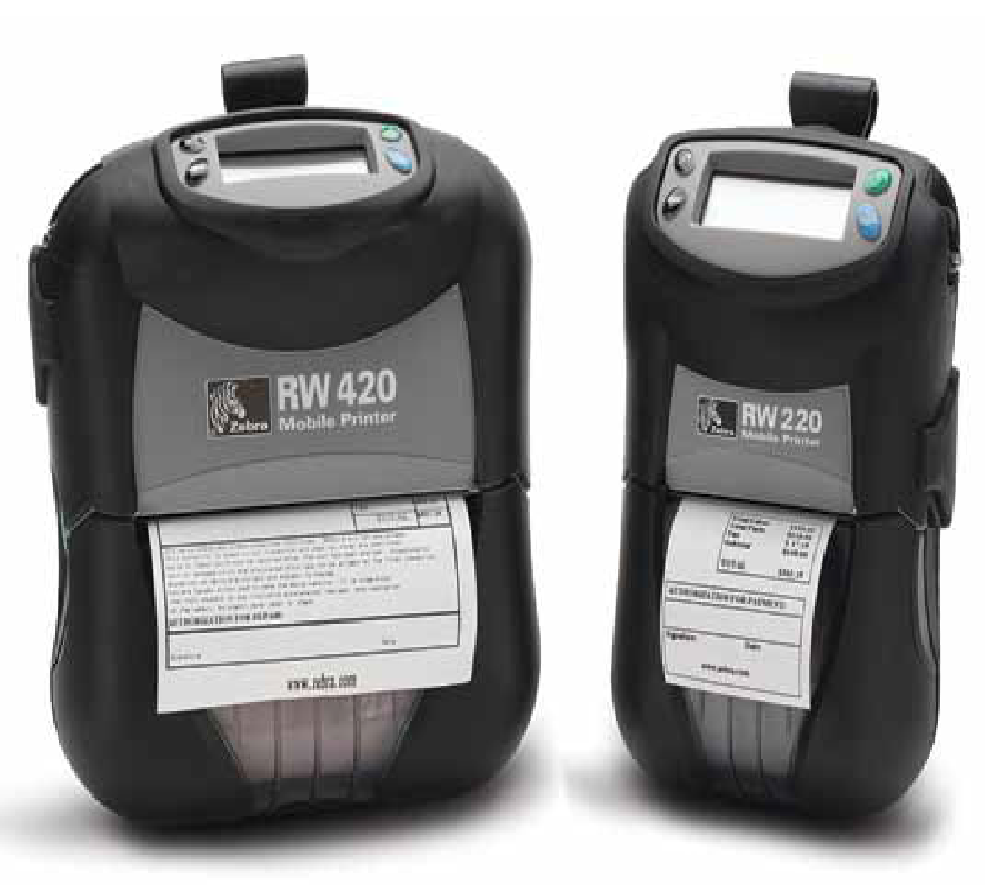 The RW series printers are designed specifically for the mobile workforce. User-friendly features and design allow the mobile user to print invoices and receipts quickly and efficiently – minimising downtime and maximising return on investment.
Versatile and rugged With a compact ergonomic design, the RW series printers can be easily carried on the shoulder or belt. For vehicle-based applications, Zebra's intelligent in-vehicle charging options provide further flexibility for the mobile worker.
Uniquely designed to endure extreme temperatures and weather conditions (IP54-rated), the RW series printers are also damage resistant to multiple drops whilst ensuring reliable performance.
Key features
• Bluetooth® or 802.11b/g wireless options
• IP54-rated for dust and water-resistance
• Damage-resistant to multiple 1.8-metre drops to concrete
• Optional magnetic stripe and EMV®-certified smartcard readers
• Optional vehicle cradle for docking and charging
Two-inch (56mm) on-demand thermal printers for labels, receipts, tags and wristbands.

Leading the way in versatile and affordable desktop printing. These space-saving, user-friendly printers bring new levels of performance to the Zebra Desktop family. The direct-thermal LP 2824 Plus or combined direct-thermal/thermal-transfer TLP 2824 Plus are perfect for patient identification, pharmacy labelling, retail product and shelf labelling or any other application where precise narrow output is required.

View Product

---

Field Force Transport & Logistics

With a mobile solution from Weber your work force will spend less time writing reports and more time preforming the job they were hired for. In stead of paper they will use their mobile device to do all the reporting. Faster and with less mistakes.

View Product

---

The SecurColour prints colour-enhanced labels and tags on demand to improve inventory organization, lowering the cost of inventory management and improving customer service.

View Product

---

With the new high performance Markoprint X4JET print controller, different inkjet printing technologies can be controlled either simultaneously or alternately.

---