Zebra RW 420 Print Station
With its integrated RW 420 printer and the ability to house a Motorola MC70 or MC75 handheld devices, the RW 420 Print Station delivers just one compact, lightweight unit to carry. Mobile workers can easily carry the streamlined RW 420 Print Station via shoulder or hand strap to customer visits, where they can rest the unit on their arm to enter data, conduct transactions via the optional magnetic-stripe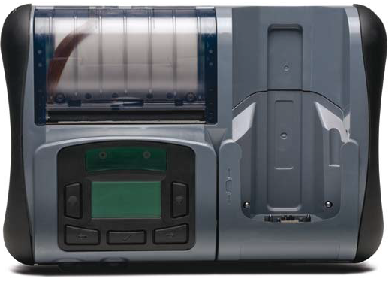 Boost the efficiency and productivity of your mobile workforce with our compact, lightweight and rugged RW 420 Print Station—perfect for your route accounting, direct store delivery, field service/sales, or electronic citation operations. This price-competitive mobile workforce tool with built-in, easy-to-use RW420 mobile printer holds your choice of a Motorola MC70 or MC75 removable mobile computer, and the latest version supports the Motorola MC55 or MC65.
Mobile workers can easily carry the streamlined RW420 Print Station via shoulder or hand strap to customer visits— where they can rest the unit on their arm to enter data, conduct transactions via the optional magnetic stripe card reader, and print receipts and other documents.
In addition, both the printer and mobile computer can charge simultaneously via a single source. Combined with one of the charging options shown on the back, this feature saves you money, saves space in the vehicle or settlement/field service dispatch center, and saves users time.
A revolutionary design delivers revolutionary productivity gains…one more hour, per worker, per shift.

Businesses looking for the next innovation in warehouse mobility to boost warehouse productivity, have just found it: the rugged TC8000. What makes the TC8000 so special? Everything

View Product

---

The QuickScan™ Lite QW2100 linear imager is specifically for reading long and truncated bar codes which is common in some areas of the world. QuickScan Lite's flexibility means it is perfect for use in retail, light manufacturing, document/bill processing and banking/finance environments. The QW2100 imager is small, lightweight and its ergonomic design is comfortable to use during […]

View Product

---

Weber's Model 5300 Twin-Tamp label printer applicator combines a high-performance thermal/thermal-transfer label printer with a specially configured applicator to satisfy the printing and two-label, adjacent-panel application of carton labels in line.

Choose from a wide range of 203, 300 and 600 dpi print engines
Capable of handling print speeds up to 16 ips
Numerous I/O's ease interfacing with external devices
Monitor operation via a web browser

View Product

---

Thermal wipes can be used to not only clean the printhead but also give the rest of the printers internal and external surfaces a proper cleaning. They aredesigned to safely clean thermal print heads, guide paths, rollers and reader heads.

View Product

---