Zebra R110Xi4 RFID Printer/Encoder
With Zebra's R110Xi4 RFID printer/encoder – optimised for high-volume operations – you can print and encode a variety of UHF radio frequency identification smart labels for a multitude of applications, from small, high-resolution (600dpi) healthcare specimen smart labelling and item-level tagging to RFID pallet/carton labelling with print widths up to 102mm/4″. As Zebra's third-generation RXi series printer/encoder, the R110Xi4 is designed with innovative, industry-leading features to meet the demands of current and future applications, and leverages the built-to-last Xi4 printer platform for robust performance.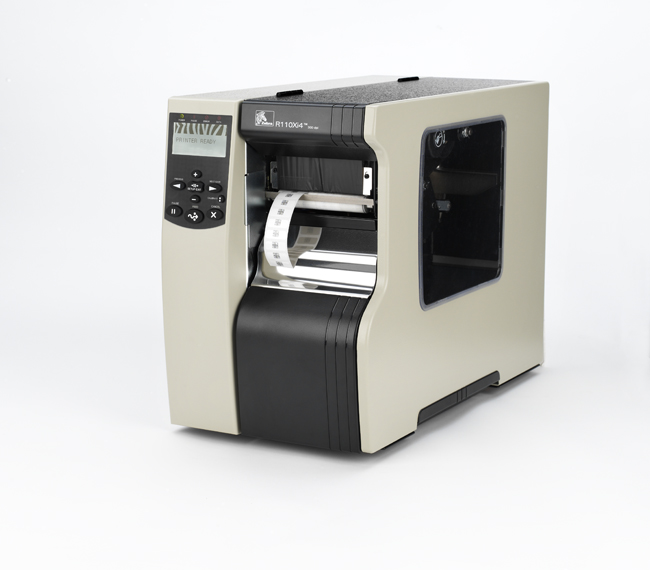 R110Xi4 printer/encoder offers high resolution (23.5 dots per mm/600dpi) for enhanced print quality on smaller labels, such as component smart labels. Versions with 8 dots per mm/203dpi or 12 dots per mm/300dpi are perfect for high-volume smart labelling, including parts and item-level tagging. Auto-configuration, which enables encoding of a variety of different RFID tags, simplifies setup. And by encoding RFID inlays that are spaced closer together (16mm/0.6″) than other-brand printer/encoders, the R110Xi4 enables lower cost per label, fewer media-roll changes and faster throughput.
Adaptive RFID encoding technology with variable inlay detection capability ensures the highest encoding accuracy in the industry. You can even use media converted for other printer/encoders thanks to Zebra's ability to detect variable inlay placement.
If you don't need printed labels, the direct-to-inlay encoding capability means even more media savings. Organisations with multinational supply chains can easily deploy the same R110Xi4 printer/encoder model in multiple countries thanks to Zebra's global certification process.
Adobe Reader is required to open and view PDF files. This can be downloaded free from adobe.com.
Available Documents
R110Xi4 Brochure
Our special manufacturing capabilities and broad selection of matte and gloss varnish coatings and laminates help improve the appearance and long-lasting performance of your labels.

View Product

---

FEATURES

Heavy Duty Industrial Construction
Semiconductor / Electronics
Variable Print Resolution
Windows Compatible
Powerful Memory
Easy Connectivity

View Product

---

RWG500 – Label Rewinder
This Label Rewinder is ideal for batch printing applications and accommodates label rolls up to 5″ wide (optional 7″ extension available) with roll O.D. of up to 8″. It can be self-powered with an optional external power module.

View Product

---

FEATURES

Heavy Duty Industrial Construction
High Resolution Printing
Interface Port for Easy Connectivity
Materials Tracking
Work-in-Process
Easy Loading

View Product

---