Zebra P4T / RP4T Mobile Printers
Zebra's P4T/RP4T is the first-ever mobile thermal-transfer printer with optional UHF RFID printing and encoding capability. The easy-to-carry P4T/RP4T printer enables users to print bar code labels and receipts where and when required on long-lasting and high endurance thermal-transfer media – resulting in enhanced data and asset-tracking accuracy and improved workforce efficiency.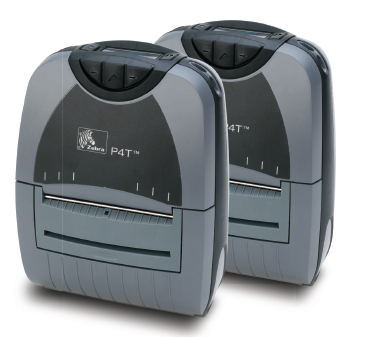 When paired with tested genuine Zebra thermal-transfer supplies, the P4T/RP4T printer produces 2- to 4-inch-wide labels or receipts that withstand harsh environments and offer archival longevity ranging from 18 months to more than 10 years.
With the option to add the RFID capability, the P4T/RP4T printer is ideally suited to point-of-application UHF EPC Gen 2 smart labelling applications for compliance or business improvement now – or in the future.
Using Advanced technology for ease of use and productivity.
Ideal for:
• Manufacturing and warehousing
– Receiving – inventory labelling
– Shipping – picking labels
– Work-in-process labelling
– Lifetime product tracking
• Transportation and logistics
– Shipping labels for large items
– Cross-docking
– Container labelling
• Healthcare
– Blood-bag labels that meet ISBT-128 standards
– Specimen labels
• Retail
– Outdoor sales item labelling
– Cold-store bulk item labelling
• Mobile-workforce applications
– Label attachment at remote locations (repair history)
– Utility labelling of outside plant
– Durable and archivable receipts
– Asset-tagging
– Inventory control
– Facilities management
– Crime evidence bar code labels
Adobe Reader is required to open and view PDF files. This can be downloaded free from adobe.com.
Available Documents
P4T Brochure
The innovative Zebra CS3000 Series enables enterprises to easily implement 1D laser scanning where either mobility or the cost and
size of a traditional scanning device is an inhibitor. Two models provide the flexibility for use in many applications. The CS3000 can be utilized in standalone mode for the batch scanning of bar codes, while the CS3070 offers batch mode as well as real-time bar code data transmission to a host application via a wireless Bluetooth® connection to smartphones, laptops and more. The result is a new level of affordability for 1D scanning — and the ability to streamline, error proof and simplify many business processes.

View Product

---

The Symbol LS1203 handheld scanner from Zebra delivers high quality laser scanning, user-friendly ergonomics and durability at an affordable price. Designed to meet the needs of small businesses, the Symbol LS1203 provides the performance and features needed to significantly reduce data entry errors and boost productivity day in and day out in gift shops, boutiques, sporting goods, jewelers, video stores, florists and other small local retailers. Easy and comfortable to use, this high-value cost-effective scanner offers the reliability and investment protection that have made Zebra the global leader in handheld bar code scanning.

View Product

---

The Monarch 9864TM Tabletop Bar Code Industrial Printer helps you move your merchandise quickly and accurately through the supply chain, by providing high quality, scannable bar codes for your internal tracking, compliance or international shipments.

View Product

---

With Zebra's R110Xi4 RFID printer/encoder – optimised for high-volume operations – you can print and encode a variety of UHF radio frequency identification smart labels for a multitude of applications, from small, high-resolution (600dpi) healthcare specimen smart labelling and item-level tagging to RFID pallet/carton labelling with print widths up to 102mm/4″. As Zebra's third-generation RXi series printer/encoder, the R110Xi4 is designed with innovative, industry-leading features to meet the demands of current and future applications, and leverages the built-to-last Xi4 printer platform for robust performance.

View Product

---