Zebra KR400 Series Printers
Building on Zebra's range of robust kiosk printers for demanding applications, the KR403 receipt printer offers a number of enhancements ranging from excellent print quality across a wide range of papers to expanded memory and a wide selection of fonts and barcodes – including the retail-industry-requirement of GS1 DataBar barcode. The KR403 printer is easy to integrate into kiosk designs thanks to its compact size and footprint, range of mounting options, and Zebra Programming Language (ZPL), which increases functionality and allows for a wide variety of applications.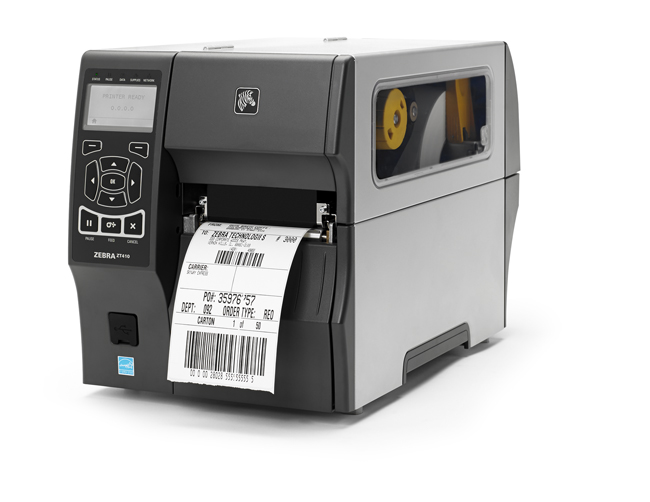 Keep your critical operations running efficiently with Zebra's durable ZT400 Series printers, designed for years of performance in a wide array of applications. The ZT400 Series builds on the field-proven reliability of the Z Series™ with advancements in print speed, print quality and connectivity options. Designed for ease of use, the ZT400 Series printers offer an intuitive icon-based LCD graphical user interface and easy supplies loading. And, they include standard USB, Serial, Ethernet and Bluetooth, capabilities. Expanded RFID, capacities deliver greater tracking abilities, deeper visibility and enterprise insights.
The ZT400 Series is offered in both 4" and 6" models and comes standard with an extensive set of advanced features that ensure your printer investment will always meet your needs, now and in the future. Constructed using an all-metal frame and bi-fold door, this printer is designed to fit well in space-constrained environments.
Featuring Zebra's Link-OS® environment — an innovative operating system combining a powerful Multi-platform Software-Development Kit (SDK) and software applications—ZT400 Series printers are easy to integrate, manage and maintain from any location around the globe
Adobe Reader is required to open and view PDF files. This can be downloaded free from adobe.com.
Available Documents
Your hair care products deserve a label that will get noticed. Set yourself apart from the competition with a colorful, creative label that adds value to your product line. Small shampoo bottle labels are very popular at hotels and resorts and can benefit from label redesign or update of materials.

View Product

---

The Datamax-O'Neil p1120n Near Edge Performance Printer offers a unique near-edge printhead that allows full use of the label giving customers the ability to design and code barcodes that support detailed information. The flexible multimedia printing allows labels to be printed on synthetics, tags, self-adhesives and plastics. The near-edge printhead gives users the ability to integrate barcode printing across a wide variety of applications. The p1120n also offers auto-loading capabilities, a user-friendly touchscreen, and uses industry standard PCL printer language making it easy to integrate.

View Product

---

Brands and high-quality products need suitable labels to represent the image and reflect the branding. Weber Marking Systems is geared for the production of high-quality primary and pre-printed labels for any application.

View Product

---

Delivering the Latest in Technology in a Compact and Lightweight Form Factor

When managers and task workers are on the move inside the facility, the rugged MC55A0 mobile computer keeps everything they need to take instant action at their fingertips. Pure business on the inside and smart styling on the outside, the MC55A0 lets workers access business applications, scan bar codes, snap a photo, view a video and place a private or push-to-talk call to virtually anyone in the facility—all with a single device.

View Product

---