Zebra GT800 Desktop Printer
Providing great performance and reliability at a competitive price, the GT800 direct-thermal/thermal-transfer desktop printer offers a wide range of advanced features to meet a variety of low-to-medium volume printing applications. The GT800 printer supports both 74- metre and 300-metre ribbon capacities and, because its intelligent design means that no additional settings are required for supporting different roll lengths, it is easy for users to select the appropriate length for the task in hand.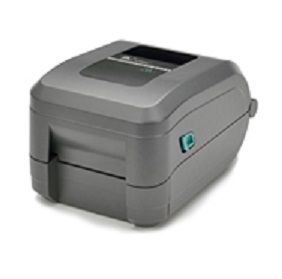 Print speeds of up to 127mm per second, a powerful processor and memory allocation make label processing and throughput fast and
easy whilst ongoing management of the product and operator intervention are kept to a minimum with status reporting, odometer control and
increased ribbon capacity.
A durable, compact design supporting a range of media with widths of up to 114mm, the GT800 printer is an
excellent choice for customers looking to migrate easily or upgrade from a competitor's thermal-transfer desktop printer.
With Zebra's R110Xi4 RFID printer/encoder – optimised for high-volume operations – you can print and encode a variety of UHF radio frequency identification smart labels for a multitude of applications, from small, high-resolution (600dpi) healthcare specimen smart labelling and item-level tagging to RFID pallet/carton labelling with print widths up to 102mm/4″. As Zebra's third-generation RXi series printer/encoder, the R110Xi4 is designed with innovative, industry-leading features to meet the demands of current and future applications, and leverages the built-to-last Xi4 printer platform for robust performance.

View Product

---

MC45 – Enterprise Value Without Compromise

Regardless of whether your customers are a small or medium-sized business, or in an emerging market, their field workforce is repairing equipment, writing sales or picking up and delivering shipments – and they all have one thing in common. They provide daily touch points with their clients. How fast and how well they perform their jobs directly impacts their revenue, customer satisfaction, customer retention — and the cost of their labor pool.

View Product

---

Portable, Handy, Smart. The TH2 direct thermal 2″ standalone printer is truly revolutionary.

View Product

---

Special labels by Weber Marking Systems meet the most diverse of requirements and have numerous specialized features, depending on their purpose.

View Product

---