TC55
TC55 Touch Computer—Business with a Personal Touch
To get the job done, workers need access to critical applications out in the field. They also want a business device that is every bit as small, sleek, and easy to use as their own personal smartphones, but today's smartphones fall far short of the feature set needed in business. The TC55 pocket-sized all touch computer has it all: smartphone ergonomics, good looks, and best-in-class practical business durability, combined with all the functionality workers need to work smarter and better serve their customers.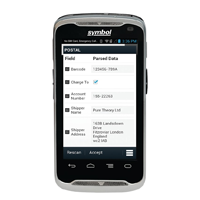 TC55 Key Features and Benefits
Mobility Extensions (Mx)—fortified Android for the enterprise
New features transform Android™ from a consumer operating system (OS) to a true enterprise-class OS, including security, device management, and support for enterprise data capture capabilities.
Industry-leading dual mode touch panel with maximum input flexibility
Choose your preferred data input mode: a finger—with or without a thick glove—or a stylus for signature capture. Take the capacitive touch experience to the next level with the 4.3 inch WVGA display, which works even if it's wet.
Enterprise-class data capture features improve productivity
Best-in-class comprehensive data capabilities help automate and reduce cycle times. With the integrated 1D and 2D bar code scanners, 8 MP camera and Near Field Communications (NFC), workers can capture virtually any type of data at the press of a button: 1D/2D bar codes, omni-directional, in practically any condition, documents, photos, signatures, videos, and NFC-based information.
The best audio support in its class
Dual front-facing speakers deliver four times the loudness of popular smartphones, while two microphones and noise canceling technology ensure crystal clear audio on both ends of a call.
Business tough but built for all-day every day enterprise use
The TC55 is loaded with features that give it long-lasting durability. Drop and tumble specifications, IP67 sealing and a Corning Gorilla Glass 2 display ensure reliable operation despite drops and spills, and make it easy to achieve an average three-year lifespan.
Business class service
Two years of Service from the Start comes with every device, providing coverage for normal wear and tear and a guaranteed 3-day turnaround on repairs.
Future proof applications with RhoMobile Suite
The TC55 supports the option to run applications built with RhoMobile Suite developer tools. Write, integrate, and deploy apps across platforms—iOS, Android, Windows Mobile and operating systems of the future. It's always what's next.
Adobe Reader is required to open and view PDF files. This can be downloaded free from adobe.com.
Available Documents
TC55 Spec Sheet
Mobility for healthcare Mobile solutions can be used for many things in a hospital. The most common solution we see is for warehousing. In most wards in a hospital there are small warehouses for band aids, needles, gloves and other consumable materials. To order new goods, inventory counting many hospitals use a warehouse solution from […]

View Product

---

Field Force Transport & Logistics

With a mobile solution from Weber your work force will spend less time writing reports and more time preforming the job they were hired for. In stead of paper they will use their mobile device to do all the reporting. Faster and with less mistakes.

View Product

---

FEATURES

High Speed Throughput
203 / 305 dpi
4 and 6 inch Print Width
Multilingual Display
Flexible Connectivity
Powerful Memory
Windows® Compatible
RFID Ready and Upgradeable

View Product

---

Weber's LA4050B Series Electric Labelling Print and Apply automated labeling systems feature industry-leading smart technology that use sensors to reduce label application complications, ensuring a one-to-one label-product match. As the leading all-electric Label Printer/Applicator manufacturer on the market, our pressure sensitive labeling systems enable customers to completely replace conventional pneumatic systems with semi-electric and or a fully electric option that controls the label with pinpoint accuracy in side, top, bottom and corner-wrap applications throughout the packaging process.

View Product

---