ET1 Enterprise Tablet
WLAN & WAN Versions
The ET1 is available in two great options: the original WLAN version and the ET1 WAN version. Also, the ET1 now features the latest version of Google's leading mobile operating system, Android Jelly Bean — the smoothest and most fluid version of Android yet.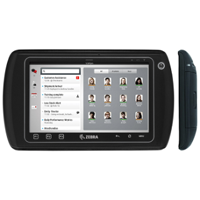 ET1 WAN Key Features and Benefits
Android Fortified for the Enterprise
The ET1 supports Android 4.1.1 Jell yBean, which provides significant improvements, including: enhanced performance, enhanced user interface, a browser with full proxy support and VPN support (Cisco Anyconnect, Juniper, Standard L2TP/IPSEC, L2PT only, PPTP only).
Zebra Extensions (Mx) transforms Android from a consumer operating system (OS) to a true enterprise-class OS with a series of additional features and options that improve security,  device management, support for advanced enterprise data capture and business-class Wi-Fi connections for a superior wireless experience.
Real Business Durability
Built for everyday use, the ET1 delivers enterprise durability — including the inevitable everyday drops, spills and bumps as well as protection against chilly winter temperatures, extreme heat and more. And since the display is built with ultra strong Gorilla™ glass, it is virtually impervious to damage and able to flex when dropped without shattering or scratching.
Use Anywhere With High-Speed Cellular/Wi-Fi Wireless Connections.
Inside the four walls, support for 802.11a/b/g/n enables the fastest Wi-Fi networks for superior performance in your facility. The ET1 WLAN version offers a data-only modem providing connectivity to the high-speed 4G HSPA + worldwide network. Voice connectivity, if required can be provided by Voice over IP applications such as TEAM or Skype.
Enterprise Security
With the ET1, data is secure. Whether the data resides on the internal drive or on removable media, it is encrypted and safe from hackers. Users can easily secure sensitive information, such as credit card data and patient information, to help comply with industry and government regulations. And if devices are lost or stolen, your customers can choose to automatically lock or wipe the device to prevent unauthorized use of their data and business applications.
Work Uninterrupted with the Features You Need
While most tablets in the industry only offer rechargeable batteries, the ET1 adds a removable battery that users can swap on the fly, preventing loss of data and productivity. With an expansion port and Bluetooth™ wireless connection, users can easily add peripherals to meet changing business needs, from scanners, portable printers and CAC card readers for easy inventory to magnetic stripe readers (MSR) for payment processing.
Easily Build Applications for the ET1 and Other Zebra Mobile Computers
The more operating systems you have, the more complex and expensive application development and maintenance can be. But with Zebra's RhoMobile Suite, you can easily create a single application that looks, feels and acts the same on Zebta mobile computers, regardless of whether it is built on the Android, Microsoft Windows Mobile or Windows CE operating system, reducing application development and support costs.
Adobe Reader is required to open and view PDF files. This can be downloaded free from adobe.com.
Available Documents
ET1 Spec Sheet
The Symbol LS2208 handheld scanner from Zebra offers high performance scanning at a moderate price point. From the retail point-of-sale and backroom to the patient bedside or school book checkout, the Symbol LS2208 provides fast, reliable scanning in a durable, lightweight form factor, delivering enhanced productivity and efficiency while reducing your total cost of ownership (TCO). With aggressive scanning capabilities and a wide working range, the Symbol LS2208 accurately captures data fast, helping employees work quickly and efficiently. And you'll be up and running fast, because the Symbol LS2208 is easy to deploy and use, thanks to its plug-and-play installation and intuitive, user-friendly design, which requires little or no training. Plus the ergonomic, balanced form factor reduces user fatigue to maximize user comfort.

View Product

---

The NX is SATO's universal printer range engineered for the ultimate operator experience, and is skilfully crafted to support new and legacy printing applications across a wide range of verticals that would require a durable and dependable printer for years to come.

View Product

---

Mobility for healthcare Mobile solutions can be used for many things in a hospital. The most common solution we see is for warehousing. In most wards in a hospital there are small warehouses for band aids, needles, gloves and other consumable materials. To order new goods, inventory counting many hospitals use a warehouse solution from […]

View Product

---

When the demands of your high performance print and apply application require more features than existing print engines offer, it's time to move up to the A-Class™ Mark II. The A-Class Mark II family of advanced print engines is designed for high-demand multi-shift applications requiring fast throughput and proven reliability. It includes a number of innovative design features such as stainless steel hardware components, a modular design for enhanced serviceability, coated side in/coated side out thermal transfer ribbon assembly, a full graphics display, intuitive menu navigation, and an optional remote display.

View Product

---