We can print labels for you!
On the off chance that on location labelling  is not an expense productive option for your organization or you have to supplement your in-house name printing capacity – we offer our selective Weber Service Bureau. Our in-house mark printing and encoding operations empower us to deliver standardized identification and other variable-engraving names for you.
It is quick and practical, sparing you capital, work and stock expenses and turnaround time is no issue as we can have your names printed and sent in 48 to 72 hours.
Bar Code & Variable-Imprint Labels
For high-volume necessities, the Weber Service Bureau has included a high caliber, in-line advanced engraving ability to our rapid flexographic name printing operation.
Called Jetrion, it is a demonstrated, on-press inkjet framework that conveys superb picture quality and unwavering quality. It is perfect for extensive or mid-volume print runs that oblige engraving like scanner tags( (1D and 2D), content, consecutive number, termination dates – for all intents and purposes any employment that obliges variable information.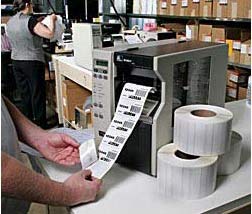 Jetrion works at up to 250 fpm and gives up to 9.5 inches of potential print width. Print determination can be up to 316 x 526 dpi. All standardized identifications are checked before delivery.
Lower-volume printing ventures can be finished with decision of off-press printing systems, including direct-warm, warm exchange, and laser. We print standardized identifications of different size, thickness and introduction, in addition to all prevalent one-and two-dimensional symbologies.
After printing, we scan your bar code labels to ensure they meet specifications.